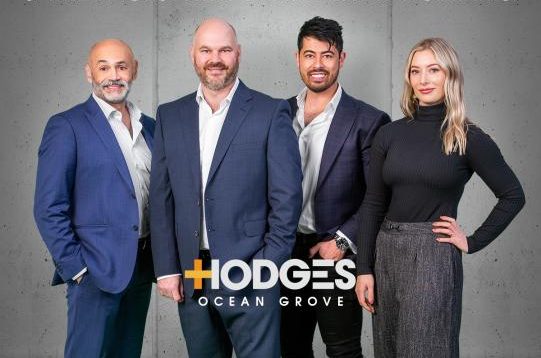 The Hodges Group real estate company is delighted to announce that the fabulous trio of Jason Burmistrow, Lauren Conlon and Joshua Cameron are the proud owners of Hodges Ocean Grove.
The decision to form the partnership followed a meeting with Tony Zarka, the chief executive of Hodges Group, where it became apparent that the business desires and passion for family and community were well aligned.
"With Jason's authentic desire for independent success and with a solid team of professional real estate partners, the collaboration will prove a winning formula that will fill a gap in Ocean Grove's real estate market," Mr Zarka says.
About Jason
Jason's history in real estate is deep, and he has a proven track record in various roles. From business development through to sales and office management, Jason has a keen eye for detail and his sense of community is rare.
About Lauren
Lauren Conlon's strong relationship with the Bellarine Peninsula speaks volumes. Her empathic style, combined with her attitude to ensure she represents her clients for the best outcome, is evidenced by her customer satisfaction rating.
Lauren looks forward to offering her personal touch and express herself through directorship/ownership.
About Joshua
Joshua is known as 'a gentleman with all the skills'. From property management and holiday letting to executive sales of the highest order, Joshua has earned the trust of his clients over the years working in regional Victoria.
Softly spoken, caring, and connected, Joshua has a way to make difficult decisions effortless. His skill set rounds off what can only be described as a formidable team.
Mr Zarka is thrilled with the Hodges office opening and looks forward to continuing to support young, energetic professionals coming through the Hodges ranks. He eagerly looks forward to watching the Ocean Grove team prosper.
Anyone thinking of selling or leasing is encouraged to get in touch and see just what the Hodges Ocean Grove team can do.
Inquiries:
Jason Burmistrow: 0429 900 581;
Lauren Conlon: 0456 674 404;
Joshua Cameron: 0456 679 231