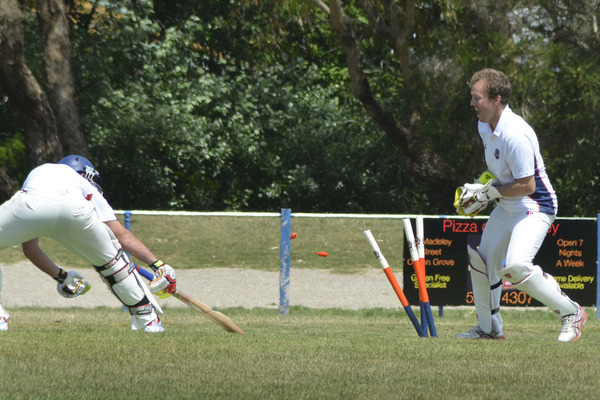 By MARK HEENAN
COLLENDINA consolidated their BPCA A Grade top-four position courtesy of a resounding victory against Queenscliff at home on November 21.
Chasing 228 for victory at the Cobras' home fortress, the lowly-ranked Queenscliff were all bowled out for only 86 from 46 overs.
Collendina had Queenscliff 2/32 from 18 overs in its second innings before play came to an end on day two.
Cobra bowler Charlie Lamb, who took 5/17, while youngster Sam Walsh, who claimed 4/46, ripped through the Coutas' batting line-up.
Collendina co-coach Ben Ricardo praised Lamb and Walsh's efforts with the ball.
"Yes, terrific effort from the guys," Ricardo said.
"Charlie (Lamb) led from the front as usual and Sam Walsh was absolutely brilliant taking four wickets.
"With a couple of guys still out was great to have such a convincing win and keep pushing our way up the ladder."
Cobra fast bowler Jye Hearps was at his economical best and finished with figures of 0/4 from 10 overs which included six maidens.
Collendina will be hoping to continue their winning start when it meets Barrabool in a two-day game at home on Saturday.
IN B Grade, Cobra Dean Britt led his side to a 51-run win against Ocean Grove at Ocean Grove.
Batting first, Collendina were bowled out for 153 from 65.4 overs, while in reply the Grubbers were all out for 102 from 71.1 overs.
Britt finished with figures of 7/30 from 25.1 overs, a spell that included 15 maidens.
Fellow Collendina bowler Mark Johnston took 2/29 from 21 overs.
CENTURIES from David Worn (103 not out) and Ashley Denneman (106) helped guided Collendina C Grade to a seven-wicket win over Queenscliff at Bellarine Secondary College's Ocean Grove campus.
Worn and Denneman shared in a fourth-wicket 205-run stand as the Cobras made 4/254 from 48.5 overs.
On day one, Queenscliff made 9/125 from 60 overs.
Cobra bowler Clynt Combridge the leading wicket-taker with 3/36 from 17 overs.
IN D Grade games, Collendina 1 lost to Ocean Grove by 55 runs in their one-day game at Shell Road.
Ocean Grove posted 7/159 from 40 overs, while in reply Collendina made 9/104 from 40 overs.
WALLINGTON claimed a seven-wicket win over Collendina 2 in their D Grade one-day game at Charles McCarthy Oval in St Leonards.
Batting first the Cobras posted 4/155 from its 40 overs, while in reply Wallington made 3/157 from only 23 overs.
Wallaby batsman Michael Drever made a superb unbeaten 107.