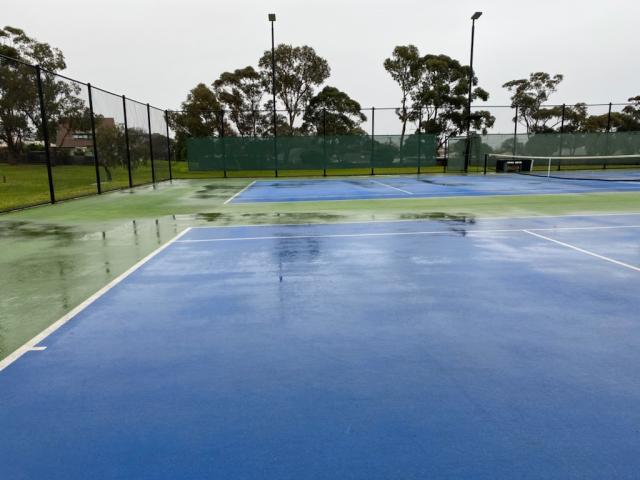 LOCAL TENNIS with Donna Schoenmaekers
With play on Saturday left to the worms due to rain, Tuesday's Midweek competition players were hoping for better conditions, and while the day was particularly cold, the rain stayed away allowing most matches to be completed.
Things remain close in Section 4 Midweek after round three with only six points between first and sixth.
Surfcoast Bellbrae hosted Ocean Grove this week, and in a topsy turvy match, Bellbrae came out with a one-game win, closing in on fourth position, with the gap now only being percentage.
Bellbrae started the day well with Kerryn Viner and Judy Harvey taking the first set 6-4 and Nyree Baker and Ann Cooper the second 6-1.
The third and fourth sets were close with Bellbrae taking the third 7-5, but Phillipa Hendry and Jackie Moore put Grove on the board taking the fourth 6-4. Although Bellbrae was in the box seat, Ocean Grove wasn't going to let it have its own way, and fought to level the match at three sets all, winning the final sets 6-4, 6-2 but one game short of the win.
The second match of the day saw Portarlington push itself to the top of the ladder with a 6-0 win over eighth placed Eastern Districts, while the third match scheduled at Surfcoast Torquay was not played due to too much rain over the week, leaving the courts waterlogged.
In the final match Moolap travelled to Point Lonsdale in a match with an outcome that was almost identical to the first.
The home team started well taking the first two sets with Tamara Gaylard and Louise Window winning 7-5 and counterparts Jane Molphy and Clare Ireland victorious 6-3.
Felicia Johnston and Rita Nelis took the third set 6-4 for Moolap, while Lonny's Window and Ireland took the fourth 6-2.
Johnston and Marilyn Wyllie hit back for the visitors taking the fifth 6-4, and Nelis and Joy Abrahams the final set 6-3 resulting in a two-game win at three sets all to Point Lonsdale.