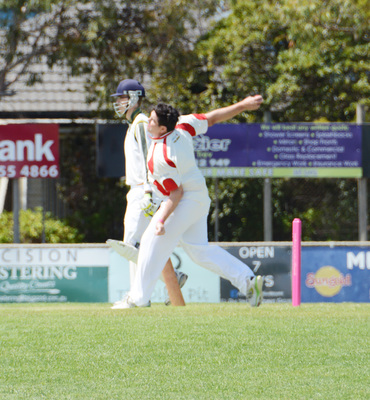 WALLINGTON upstaged former Grubber coach Lucas Cameron's final A Grade outing with Ocean Grove Cricket Club after the Wallabies completed a 25-run win on Saturday.
The Grubbers, who resumed day two at 0/8 in pursuit of Wallington's competitive first-day total of 243, were bowled out for 218.
Ocean Grove coach Paul Jubber said Cameron's impact on the club had been enormous.
Cameron is expected to play some cricket in the lower grades next season at Ocean Grove, but will focus on a promising darts career.
"Lucas Cameron has been an icon of the Ocean Grove Cricket Club," Jubber said.
"A fantastic club man, spiritual leader, lion-hearted, a fierce competitor, highly skilled."
Jubber top scored with 49 in the Ocean Grove's innings with the bat, while young opener Jackson Kent (41) was next best scorer and continued his consistent form.
Dylan Thorley compiled a valuable 36 while Dan Roddis made 22.
Evergreen Wallaby Damien Biemans was the star for the visitors with figures of 5/96 from 38 overs. Wallington Cricket Coach Chris Barnett, who made 50 on day one, said his bowlers stuck to a plan against the Grubbers.
"It was a really good game from both teams," Barnett told the Voice. "The bowlers bowled to a plan, we spoke about the plan, the bowled to it, no matter how close the game got. (Biemans) for a warhorse, he bowled from the first over to the last over against Ocean Grove."
Ironically it was the first time the Wallabies had tasted an A Grade victory since its emphatic 128-run win over the Grubbers in the final game of 2014-'15.
Barnett said last season's win over Ocean Grove was spoken about before the game.
"It definitely was and we thought, it may play in the back of the minds of the Ocean Grove boys … it also gave us the belief (to win)," he said.
Ocean Grove A Grade finished the season in eighth position with a 4-5 win loss record, while the Wallabies ended their 2015-'16 campaign in 10th spot with a 1-9 record.
IN B Grade, Ocean Grove scored a comfortable win over Drysdale in their two-day clash at Drysdale Recreation Reserve.
The Grubbers, who won last season's B Grade premiership, victory over the Hawks, who were runners-up, means fourth-placed Ocean Grove edged out Collendina to play finals.
The Grubbers will play Barwon Heads in a knockout semi-final this weekend.
Grubber pair Jay Dawson (78) and Issac Saunders (78) both scored valuable half-centuries on day two in Ocean Grove's innings of 5/202 from 45.2 overs.
On day one, the Hawks scored 9/167 from its 75 overs, Grubber bowler Rob Procter claimed three wickets while Drysdale Cricket Coach Darren Cameron made unbeaten 96 with the bat.
C GRADE BPCA ladder leader St Leonards defeated Ocean Grove in their two-day game at Shell Road. Batting first Ocean Grove were bowled out 160 from 56.5 overs on day one. In reply St Leonards finished at 6/177 from 55 overs.
IN D Grade Ocean Grove defeated Jan Juc 2 by four wickets in their one-day clash at Bellbrae Oval. Jan Juc 2 were bowled out for 112, as Jeff Erskine snared 5/24 from 7.5 overs. The Grubbers finished 6/113 from 31 overs in reply. Jan Juc 2 and Ocean Grove will meet again this Saturday in a qualifying final one-day clash.