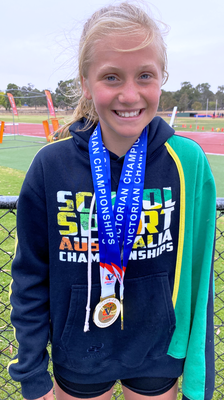 Ocean Grove's Michaela Payne won a gold medal at Athletics Victoria's 2020 Victorian Pentathlon Championships in Bendigo.
It was a surprisingly cold, wet and windy day at the La Trobe University Bendigo Athletics complex, but the competition was hot.
Michaela, 12, was competing in her first outing at under-14 level for Bellarine Track and Field Athletics Club at an Athletics Victoria (senior athletics) competition.
Michaela spent six years competing for Ocean Grove Barwon Heads Little Athletics Club.
The pentathlon consists of five events – sprint hurdles, high jump, 200 metre sprint, shot put and 800 metre run.
Michaela was sitting in silver medal position until the last, and least favourite, event – the 800 metre, but a gutsy last lap resulted in a win, and an overall winning margin to narrowly take the gold by a mere 59 points.
Michaela said she was thrilled with becoming state champion, and thanked runner-up Madison Carr from Mentone for pushing her to three personal bests in the high jump, shot put and the 800 metre.
Michaela now has a gruelling three months of competition at both Little Athletics and Senior Athletics, with a number of regional, state and national events between now and the end of March.
If you are keen to get involved in track and field, or cross country (whatever your age), go to the Bellarine Athletics or Ocean Grove Barwon Heads Little Athletics Club Facebook pages.