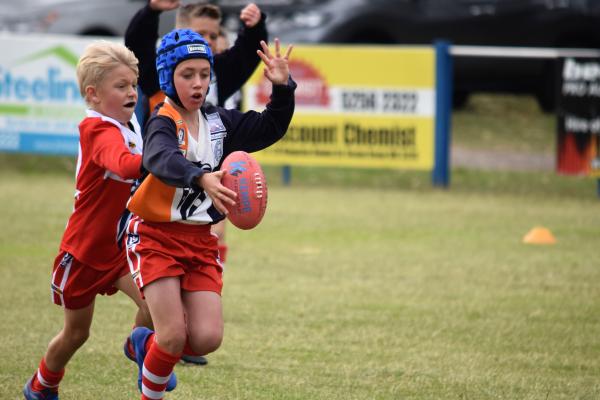 Results and reports from round one of Ocean Grove Cobras junior football.
UNDER 9
Dalton 9.1(55) def Allan 3.5(23)
For Dalton, Max Bonnaci celebrated his birthday with the opening goal after some great teamwork and passing to get the ball forward. Ned Spiers also got a bag of goals, with Jack McLeish and Tom Rattray-Wood also scoring their first ever goals. Awards: Jensen Kalaitzidis, Raff Smith, Ned Spiers.
A slow first quarter hurt but OG Allen stood up and made it an even contest for the rest of the game. A ripping Jack Salter mark, Leroy Bright's smother and goals to Patrick Clark and Oliver Mullen were standouts. Awards: Harvey Bond, Patrick Clark, Jethro Mansell.
Norquay 2.1(13) def by Barwon Heads O'Leary 8.2(50)
A great team effort against a strong Seagulls team. The young Cobras
showed lots of skill and determination to start off their 2021 season and are keen to keep improving. Awards: Louis Patena, Ted Banks, Jasper Lindsay
Durran 4.0(24) def by Stow 6.3(39)
After a slow start team Durran kicked into gear and displayed excellent pressure and teamwork around the ball. Goals to Eli Sheahan, James Coote and two goals to Jude Beckworth were terrific highlights. Buddy McGregor, Flynn Rippon and Sullivan Eddy all played great team games.
For Stow, it was a high-pressure game from the start saw the team working well together to spread the ball around and hit the scoreboard early. Sam Headland, Charlie Lucas, Travis Martinelli, Mitchell Paganini and James Snowden all kicked goals. Awards: Micah Blismas, Jonah Kostikidis, Mitchell Paganini
Taylor 9.8(62) def Barwon Heads Wallace 2.1(13)
Team Taylor had a strong start with lots of attacking momentum and quality defensive pressure. The game opened up to both sides during the second and third quarters but Taylor proved too strong with lots of hard work, good skill and great teamwork. Awards: Eamonn Lake, Kodi Young, George Davies.
UNDER 10
Cordy 2.2(14) def by OG Jones 9.9(63)
The Cordy team put up a good fight against Jones. Harry Thomson and Hugh Rolfs performed very well across all four quarters, with Thomson scoring a goal in the second. Lenny Makowski and Arthur Hardwick were good in the centre during the third, with Toby Prout working hard up front. Noah Burdeu's pass to Finlay Macrae secured a second goal. Best: Hugh Rolfs, Finlay Macrae, Harry Thomson
For team Jones, they played an impressive game under lights at Collendina with both teams showing the crowd some impressive skills. Jones displayed great team spirit and moved the ball well over the ground. Awards: Lewis Kelly, Loius Belsar-LeBel, Jasper Kristapsons.
O'Keefe 14.5(89) def Queenscliff 2.2(14)
The 2021 season is off to a brilliant start with stellar performances from the whole team. It was like Team O'Keefe had been playing together for many seasons. The coaches were impressed to see the boys reading the play well, listening, supporting each other and sharing the ball. Awards: Kieran Houlston, Ezra Harvey, Tommy Pallero.
Burchell 11.12(78) def Newcomb 0.1(1)
UNDER 11
Moroney 11.6(72) def Barwon Heads Armstrong 2.1(13)
This was a great game of footy to watch with high-flying marks, great linkages and great use of voices the reason Moroney kicked 11 goals. Awards: Patty McCaffrey, Cooper Vose, Gus Montgomery.
Hateley 19.10(124) def Queenscliff 0.2(2)
Cobras Hateley started the year in impressive fashion against a younger Queenscliff team. The unselfish attitude of the boys was evident throughout the match as they consistently supported each other, ran into space and created easy goals for teammates. Overhead marking was also a feature with some big marks being taken in pack situations. Awards: Ewan Millard, Charlie Kopec-Teague, Hugh Rolfs.
Farrell 8.13(61) def Newtown & Chilwell McLean 3.1(19)
McManus 5.4(34) def by Barwon Heads Miles 7.6(48)
It was a fantastic first-up effort by the boys who worked as a team and produced a top notch second quarter. The boys were first in for the ball and had clearance after clearance, going straight down the middle and kicked goal after goal. Thanks to the U10 boys, Chance, Kash and Tommy, for stepping up. Awards: Hayden, Tommy, Felix.
UNDER 12
McEvoy 7.5(47) def Leopold Dowsett 0.0(0)
Burchell 0.1(1) def by Lara Francese 12.12(84)
Lara Francese took the win, however Team Burchell showed some amazing grit and determination. Lara built a commanding lead, but the second half of the game proved to be much more competitive. The girls' teamwork and strength shone through and they found their rhythm. Awards: Cailey Paech, Hollie
Smith, Lani Turner.
UNDER 13
Walter 1.7(13) def by Torquay Watson 5.6(36)
Walter's clash with Torquay was a great game, very tough and physical. The boys tried hard all day and never gave up, however Torquay ran hard the whole game. Awards went to Charlie Eales for his creative work in the forward line, Bohdi Hateley who played a strong game and first gamer Ryan Tolley showed his creative flair.
Pearson 5.3(33) def by St Joseph's Red 7.1(43)
The team fought hard all day in a competitive game before eventually going down by 10 points. Coaches Chris Sendeckyj and Harvey Stephenson were very happy with the boys' tackling and effort all day. Archie McCallum had a great game capped off by three goals, Tai Sendeckyj was dominant in
the ruck and Oliver Kiddle and Lucian Joyce took plenty of strong marks.
Every 5.5(35) def Portarlington Blue 5.4(34)
Team Every played a great first round game with all players putting in 100