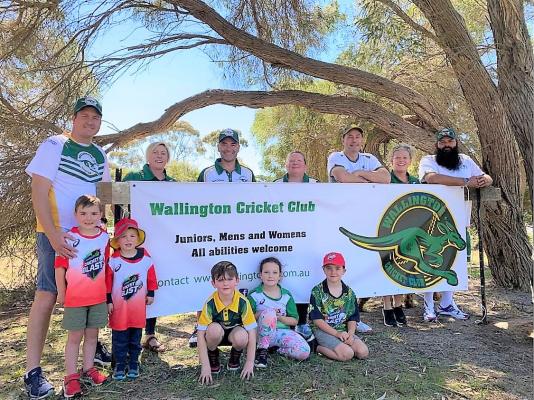 By Justin Flynn
Wallington Cricket Club is in the best position it has been in the past 25 years according to club president Marc Occhipinti.
The Wallabies have a brand new logo, an inaugural women's team, three men's sides, and under 11s team for the first time in five years and 110 juniors enjoying the Blast program, an increase from 52 last season.
The club is in the process of installing sight screens at its home ground on Wallington Road and has converted a storage room into a new changeroom to ensure women's toilets.
The club has also been given approval to use Oakdene Oval as its number two ground.
"We have worked hard in creating a family friendly and fun environment and this is starting to pay dividends," Occhipinti said.
"There is still a lot of work to be done to ensure we achieve our five year goals but the first year of the plan has ticked so many boxes.
"We have worked hard in recent years in developing a good culture off the field. We took advantage of being a smaller club to ensure we were inclusive and supportive of all members, where men, women and kids feel comfortable, safe and enjoy having fun at the club."
Wallington finished second bottom in A2 Grade last season and wooden spooners in C Grade, but there is genuine hope this time around that the club will see better results when play gets underway next month.
"We have got quality people in the club and we want the external view of WCC being that we are a good bunch of people that are welcoming and accommodating," Occhipinti said.
"Onfield we want to be seen that we play the game in a competitive but fair way. Good camaraderie across the group is critical to ensure we enjoy playing with each other. We know success will follow."
Occhipinti said he was particularly excited about the inaugural women's side, which looks strong in numbers alone.
"It started out as a few of the partners wanting their own outlet, but as the word spread, we were able to recruit several players that previously didn't have a connection to the club," he said.
"In hindsight, we were too conservative in our estimation, as we could, and should, have pushed to fielding a second side.
"Having a women's program provides a great balance to the other aspects of the club. We have been able to recruit a few families where the kids have joined Friday nights, husband is playing Saturday and wife is playing Sunday. A great three for one deal."
Under the leadership of veteran all-rounder Damien Biemans, the Wallabies face Barwon Heads away in their first A2 Grade game on November 6, a home game against Anglesea in C Grade and a trip to Anglesea in the One Day Competition.