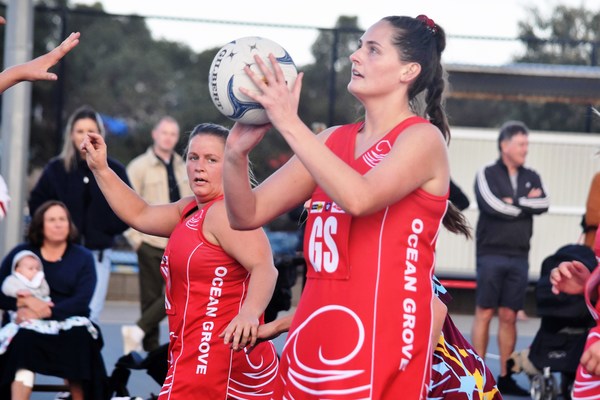 By Mark Heenan
Ocean Grove netballer Rebecca Scott has relished her new role as A Grade captain after a golden start in front of goal for 2019.
Scott, a tall goal shooter who joined the Grubbers in 2018, shot a remarkable 111 goals from her first two matches.
Scott scored a whopping 62 goals against Newcomb in the season opener on 6 April.
She followed it up with a bag of 49 goals over Drysdale at Drysdale, a week later.
"I quite enjoy it (being captain) – I don't feel like it is anything different how I would normally play, I don't have to take on much of a leadership role because the girls in the team are pretty big leaders," Scott told the Voice.
"It is more to keep the vibe positive between everyone."
Scott said playing goal shooter for the entire of match had benefited her appetite for scoring goals.
"I think it helps I am not having to play goal attack this year and I am not as 'puffed' when going for a goal – that is definitely helped," said Scott, who scored a personal high of 99 goals for Colac Imperials in the Colac and District Football Netball League in 2012.
She said the Grubbers' fluent ball use into the forward half made her life easier in front of goal.
"The girls out in wing attack and centre and the new goal attacks we have got this year, they are making my job a lot easier," she said.
She said the Grubbers were mindful of sharing the load with club senior playing coach Elyse Howard, who recovered from a broken leg in the off season, coaching both A and B senior grade teams in previous seasons.
Ocean Grove appointed Kate Slattery as A Grade assistant coach for 2019.
"The last couple of years (Elyse) coaching A and B Grades I reckon she has just thought maybe step it back so she can concentrate fully on one team – I reckon it is definitely helping her," Scott said.
Howard praised Scott after she played out of position for the most of 2018.
Howard recruited Scott, her sister-in-law, to Ocean Grove last season.
"Rebecca is an outstanding player and person," Howard said.
"She played out of position most of last year and has settled really well back into goal shooter.
"She is very accurate and ensures positivity amongst the playing group.
"She has embraced the captaincy role this year."
MEANTIME Ocean Grove bolstered its playing stocks in 2019 with the return of popular veteran Candice Parker, Emily Moroney and Lucy Vercher from knee injuries, while new recruits Julia Allan-Goodwin and Ally Swift have joined the club.
"Fingers cross everyone stays fit and healthy," Scott said.
After the first two rounds the undefeated Ocean Grove were ladder leaders on percentage with big wins over Newcomb (89-31) and Drysdale (57-33).
A Round 3 match-up saw Ocean Grove play Queenscliff, also unbeaten after two rounds, in a top-of-the table clash on 20 April.