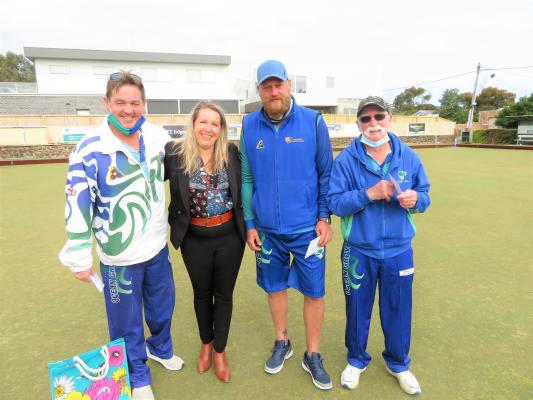 Amid a global pandemic there has been good news for members of the Ocean Grove Bowling Club as players return to the greens.
Although there has been no Pennant competition, which would normally have started in early October, or full use of the club facilities, the members have taken advantage of extra time to conduct the majority of their club championship events and social bowls activities prior to Christmas, as well as competing in the Geelong Bowls Region Championship events.
The following players won their respective club championship event in October after it was postponed from the previous season.
Mixed Pairs: Faye Richardson and Owen Clark
Men's Pairs: Grant McLaren and Matt Flapper
Men's Minor Singles: Alan Wastell
Ladies Minor Singles: Denise Wastell
Ladies 100 up: Adele Ryan
Men's 100 up: Brendan Carroll
The events finished off all championships for the 2019-20 season.
A total of 78 men battled it out for the Ryman Healthcare Men's Club Triples Championship in what members describe as the best club event to be part of.
Members are chosen in teams on a graded system, allowing players to compete with other players from lower/higher divisions. David Mackay, Wade Bowyer and Mick West were crowned 2020-21 champions.
Club Mixed Pairs had 32 teams battle it out in sectional play, with the eight section winners ready to return for the quarter finals this Sunday.
Ladies Club Pairs sectional play resulted in five section winners with the next round of play on December 1.
Ocean Grove bowlers have already enjoyed success in GBR events with Muriel Williams (sub Marg Carroll), Patricia Virtue and Faye Richardson taking out consecutive Ladies Triples titles. It was an all Ocean Grove final with Adele Ryan, Carol Howarth and Lorraine Kirk finishing runner-up.
Social bowls has been gaining great numbers for Wednesday Triples and Friday 2-4-2 Pairs.
Wednesdays and Fridays are open to visitors to come and join in for a game.
For bookings call 5255 1662 before 10.30am on the day of play.
The club is restricted with government guidelines in relation to community sport and the restriction on no spectators. Currently the club is not permitted to allow spectators outside watching any play on the greens.
Congratulations to Barb Gilbert, who has been at the helm as president of Bowls Victoria for the past four years and two previously as vice-president.
Barb has overseen several changes to the sport in her tenure as president and labels the success of her beloved Victorian Open as her major highlight along with Victoria's part in bringing back the National Championships.