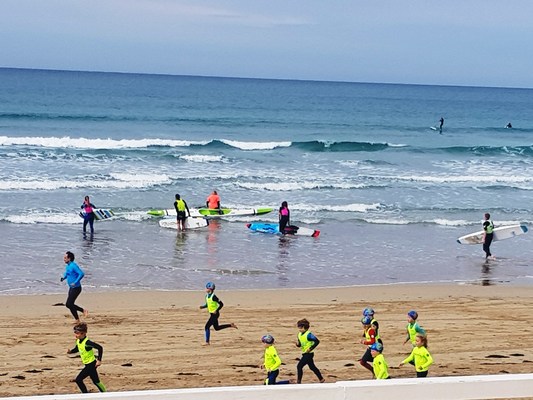 By Mark Heenan
Ocean Grove Surf Life Saving Club was overwhelmed with huge junior numbers to officially kick off its popular Nipper season on Sunday 13 October.
Ocean Grove SLSC Junior Activities Manager Darren Ball said a whopping 178 Nippers attended the first session for 2019/2020 at Ocean Grove main beach.
The club ran a series of swimming assessments and board familiarisation sessions across August and September before the club's first official surf beach session on 13 October.
Good conditions on the day greeted enthused youngsters.
"It was a fantastic day on Sunday with 178 Nippers attending the opening session," Ball said.
"(It) is an increase of over 40 per cent from the attendance average last season."
Ball paid tribute to the club's hard working Nipper coaches and volunteer water safety personnel which assisted on the day.
"A big thank you to our wonderful group of coaches that definitely have their hands full this season," he said.
"Thank you to all those who did water safety for our groups and thank you to all those who helped with set up/ pack up and age managers."
It was the first time there was an official Nipper beach session which had access to the new Ocean Grove SLSC clubhouse.
Ocean Grove SLSC was crowned state champions for the second season running after the Junior State Surf Lifesaving Championships were held at Lorne in February.
Ocean Grove SLSC will host the first Life Saving Victoria Nipper state junior carnival in 2019/20 which takes place on Saturday 7 December.
For more information on joining Ocean Grove SLSC's Nipper Surf Sport program in 2019/20 log on to http://oceangroveslsc.asn.au/ for more information.