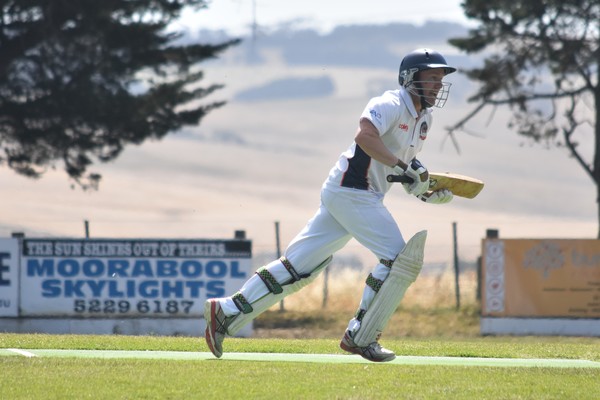 By Mark Heenan
Star bowler Jye Hearps wound back the clock to produce a six-wicket haul on day one of Collendina's Round 8 A1 clash against Queenscliff.
The veteran pace bowler finished with 6/74 from 28 overs and took his 2019/20 wicket tally to 12 at 21.67.
It was Hearps' best return with the ball this season.
"I will feel it (the next day)," said Hearps, who took the key wickets of Toby Smith (18) and Queenscliff captain Shane Healey (5).
Young star Sam Beasley took 2/42 from 12 overs, while spinner Jacob Gasior claimed 1/24 from 13.
Queenscliff took day one honours, though, all out for 263.
Couta Tim Frankenburg (52) top scored for the visitors, while Richard McCann (43), opener Michael Farrell (35) and Lachie Kidd (24) made handy contributions.
Light rain saw players leave field on several occasions before the tea break.
Collendina requires 264 runs from 75 overs this Saturday for victory.
IN other matches, Cobra Dean Britt top scored with 82 in his side's innings of 9/271 against Wallington in C1.
BARRABOOL won its Round 7 A1 Grade clash against Collendina by 100 runs after the Bulls sparked a late order Cobra collapse.
Chasing an unlikely 327 for a win on day two Collendina was in good position to push for victory and at one stage was 3/193.
Cobra opener Kade Norquay (65) posted his third half century of 2019/20 and shared in a third wicket 95-run stand with all-rounder Jacob Gasior (56).
Experienced batsman Ben Ricardo chimed in with 35.
The Cobras lost their last seven wickets for 33 runs and were dismissed for 226.
Barrabool's Nathan Findlay took 4/81 from 21 overs, while star all-rounder Kane Pickering claimed 3/64 from 23 overs after he top scored with 87 on day one.
"Was (a) disappointing (result), but (we had a) pretty inexperienced side and another specialist batsman would have been handy," said Collendina's Ben Ricardo.
The Cobras were without star youngster Max Sutton and batting all-rounder Nathan Walter, who scored more than 500 runs last season and hasn't played since Round 1 with a knee injury.
Walter, the club's A1 captain, is likely to resume playing in the new year.
AN unbroken 68-run eighth wicket stand between teenager Campbell Snookes and Brock Close guided Barwon Heads to a three-wicket victory over Ocean Grove at Shell Road.
Snookes, 14, was on 50 not out and Close 41 not out at the close of play.
Resuming at 0/17 on day two chasing 181 for the win, the Seagulls fell in a heap at 6/67 as Ocean Grove crushed the visitors' top order.
Barwon Heads captain Sam Schaller said a seventh wicket 56-run stand between Snookes and Kristian Hopwood proved crucial.
"I think even the seventh wicket firstly between Kristian in only his second A Grade match and Cam also in his second match was just as important," Schaller told the Voice.
"Coming together at 6 for 60 odd with a bit of carnage going on they got together and really gave us an opportunity."
Barwon Heads finished the match at 7/191 from 61 overs.
Dylan Thorley was the pick of the Grubber bowlers with 3/28 from 10 overs, while captain-coach Paul Jubber claimed 2/20.