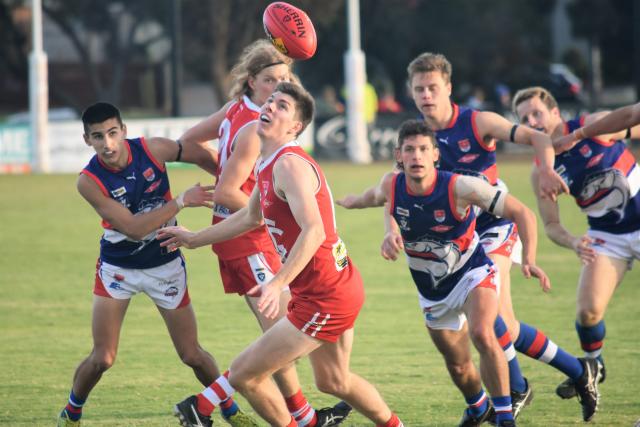 By Justin Flynn
Ocean Grove coach Pete Davey said he could see it in his players' eyes that they believed they could win against Newcomb despite being 22 points down at three-quarter time.
The Grubbers won their second game in a row and their third for the season after coming from behind under lights against Newcomb at Grinter Reserve on Saturday June 11. Final scores Ocean Grove 8.14(62) to Newcomb 8.7(55).
"There was still a lot of belief at three-quarter time," Davey said.
"When you talk to players at breaks, their eyes don't lie so you generally know if they believe they can win or not and their eyes told me that they believed that they could.
"We just needed an earlier goal to get us going and fortunately we got that within 90 seconds."
Ocean Grove scored 4.6 to one behind in the final term with Harry Dolley sealing the win on the siren after a ruck infringement.
"To come back from where we were from was the most pleasing part," Davey said.
"We weren't playing good footy and I think Newcomb would say the same thing. To be able to put two ordinary quarters and one really poor quarter behind us and focus on what needed to be done showed a lot of grit."
Davey said the consecutive wins after being one win and eight losses were a "genuine character check".
"Numbers at training have been good and even in the losses, we have seen in our reviews that things are trending in the right direction, that's the pleasing thing to me," he said.
"The boys who are here genuinely care about the footy club and representing the town and I know they'll never give up."
The win gave Ocean Grove an ever-so-slim chance of making finals this year.
The Grubbers are two games behind fifth placed Geelong Amateur, but have a superior percentage.
"Our percentage is good because we've generally competed well against most clubs," Davey said.
"For the most part it's been a poor quarter that has decided the result in our games. In the context of the season, we've dug ourselves an incredibly large hole so I'm not looking to finals.
"My focus is fast tracking as much improvement as possible to get us ready to compete at a higher level next season and beyond."