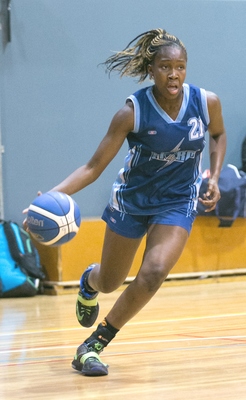 By Justin Flynn
Star Ocean Grove junior Agnes Emma-Nnopu is off to the FIBA under 17 basketball World Cup.
Emma-Nnopu, 17, a former Bellarine Storm junior, was selected as part of a 12-player Australian roster to compete at junior basketball's pinnacle event in Minsk, Belarus from 21 to 29 July.
The selection adds another feat to an already impressive resume for Emma-Nnopu having won a gold medal at the Under 16 Asian championships with the national team, gold and bronze medals at the Australian under 18 championships with Victoria Country and earning a scholarship to the Australian Institute of Sport in the past 18 months.
The former Our Lady Star of the Sea Primary School student is currently at the Australian Institute of Sport in Canberra.
"When the Australian team was announced I was so excited and honoured," Emma-Nnopu told the Voice.
"The trials leading up had been quite stressful as I was injured and the talent that was on the court was outstanding but to be able to be selected to go and represent my country at a world championships still leaves me speechless."
Emma-Nnopu returned to Geelong on Friday night to play for the Centre of Excellence against the Supercats.
"It is a bit strange to come back to my home town and play against people I used to play with rather than for them, as these are some of the people I'd say helped get me where I am today," she said.
"But it is a great feeling being able to come back to where you're from and see those who got you where you are now."
Despite the distance between Canberra and Ocean Grove, Emma-Nnopu said life at the elite training academy was good.
"I do miss ocean Grove and my family but I really love it in Canberra it's so quiet and peaceful," she said.
"Life at the AIS has been great so far, it's such an elite environment that just motivates you to get better every day. The girls that I live with and train with are more than teammates, they are my family, we push each other hard at training but when it comes to it everyone is there for you."
Emma-Nnopu has high hopes of progressing further with her basketball career.
"I just love the sport and would like to take it as far as possible," she said.
"I am currently in Year 11 and after completing Year 12 I want to head to the States to play college basketball. After that I just want to keep implementing my name in the sport and hopefully one day have the chance to represent my country as an Opal."