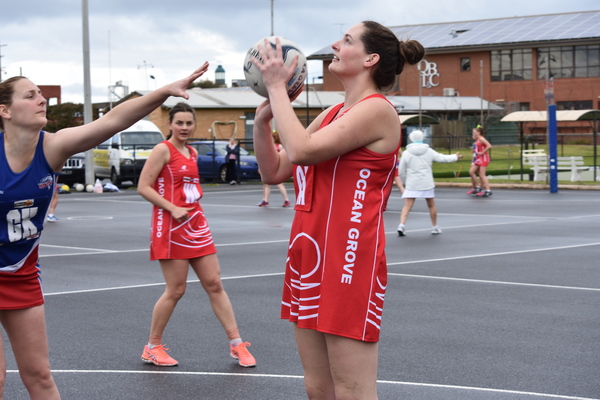 By Meg Badrock
Round 18 vs Queenscliff
A great finish to the season with all teams claiming victory over their Queenscliff opponents.
A Grade (61 defeated Queenscliff 44)
A massive turnaround for the A Graders following a loss the last time these two teams met. The girls are looking in good stead for finals following such a convincing win.
Best: Lucy Teague-Neeld, Rebecca Scott, Kelsey Ollis
B Grade (39 defeated Queenscliff 36)
The girls struggled in wet conditions early on in the match, however were able to lift in the second half, coming back from an eight goal deficit. B Grade will meet Queenscliff again next week in the first elimination final.
Best: Emily Moroney, Kylie Lane, Kim Hart
C Grade (24 defeated Queenscliff 22)
Another close game for the Grubbers who held the lead at all stages throughout the match. Kellie Morrish and Sharni Thebes were strong in the centre, with Mia Smith once again backing up in defence.
Best: Kellie Morrish, Mia Smith, Sharni Thebes
D Grade (28 defeated Queenscliff 24)
From being down in the first quarter, the girls were able to gain momentum and get themselves back in control of the match. Maddy Crothers was tight in defence, whilst Shereen Wolfe and Kim Carrroll worked well in goals.
Best: Maddy Crothers, Kim Carroll, Shereen Wolfe
U19s (24 defeated Queenscliff 23)
A great finish to the season for the 19s girls, who just scraped through for the win. Congratulations to the girls for all the hard work this season.
Best: Elyssa Winter, Gemma Bell, Rachel Mercer, Emma Simpson
Round 17 vs Drysdale
A great round for the Grubber girls, with all senior netball teams securing themselves in finals.
A Grade (70 defeated Drysdale 28)
In what was a must-win match for the A Graders, the girls were able to stand up to the challenge with a fine display of skills from all players. Lucy Teague-Neeld was hard to beat with her speed in the ring, while regular goaler Rebecca Scott tried her luck in the defensive end, using strength and height to outwit her opponent.
Best: Lucy Teague-Neeld, Rebecca Scott, Claudia Britt
B Grade (62 defeated Drysdale 31)
A great team effort for the girls who maintained good form throughout the match despite having an easy lead. It didn't take long for Izzy Hackett to get an intercept on the board and an impressive performance from Emily Moroney proved exactly why everyone's been so keen to have her back.
Best: Izzy Hackett, Emily Moroney, Kylie Lane
C Grade (23 defeated by Drysdale 29)
A disappointing loss for the girls, who came close to the second-placed Drysdale team. Sharni Thebes was once again impressive in centre court, whilst Lauren Barber showed her skills at both ends of the court.
Best: Sharni Thebes, Kellie Morrish, Lauren Barber
D Grade (24 defeated Drysdale 22)
A close call for the Grubbers who were able to hold off the Drysdale attack in the final seconds to clench victory. Tarryn Stanley held strong on the goal ring, while coach Tamara Splatt created countless turnovers for her team.
Best: Tarryn Stanley, Shereen Wolfe, Tamara Splatt
E Grade (45 defeated Drysdale 8)
The girls finished strongly in their final game of the home and away season and will go into the finals series as favourites having finished on top of the ladder. Great performances once again from Alicia Skurrie and birthday girl Jamilla Smith.
Best: Alicia Skurrie, Jamilla Smith, Sarah Roberts
U19s (15 defeated by Drysdale 37)
Now with only one game left in their 2018 campaign, the girls hope to finish strong with a win against Queenscliff. Bree Abel was efficient throughout the court, while Elyssa Winter shot at 100% against the Drysdale defence.
Best: Bree Abel, Elyssa Winter, Gemma Bell