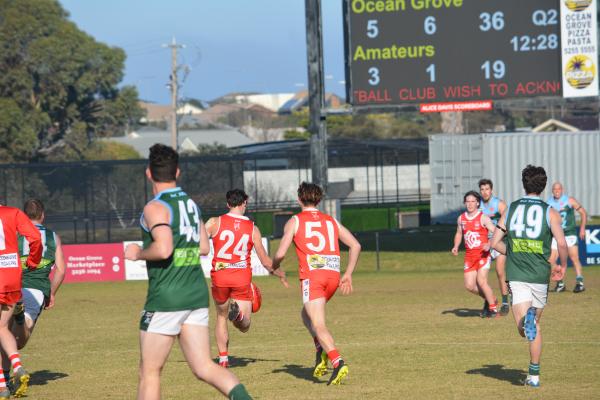 By Justin Flynn
Ocean Grove takes on Anglesea in the Bellarine Football League elimination final on Sunday after the season was yet again cut short last week.
Another snap lockdown meant the abandonment of the final home and away round on August 7.
The lockdown didn't affect the final five, however, after Ocean Grove secured a stirring away win against Drysdale in round 17.
Both Ocean Grove and Anglesea finished the 12-round season with eight wins. Anglesea spent much of the season in the top three before sliding down to fifth late in the season.
"We've got a huge amount of respect for them," Ocean Grove coach Pete Davey said of his side's opponent this Sunday.
"You can focus your planning against most sides around negating one or two key players and be confident that if it's done correctly, it will go a long way to securing a result.
"Anglesea have five or six genuine match winners though, so while we've gone through video and highlighted several traits of their top end players, our planning for this game is mostly team based."
Ocean Grove was due to host Anglesea in round 18 in what would have been a practice match of sorts in the lead up to the cut-throat final. Both sides were guaranteed an elimination final with next to no chance of jumping into the top three.
The Seas won the only encounter between the two teams this season with a powerful 42-point win at Ellimatta Reserve in round seven.
However, Davey believes his side has improved since then.
"The flip side is that I believe the longer the season has gone, the more even we have become across the board," he said.
"We're not reliant on any one player to have an above-average game and to that end, I think we've become a much more difficult proposition for most teams to plan for ourselves.
"We take a lot of confidence out of the knowledge that we're a lot more advanced in how we want to play, and actually executing that, than what they saw in round seven."
Barwon Heads takes on Modewarre tomorrow with the winner to play Torquay in the second-semi-final, while the loser will take on the winner of Ocean Grove and Anglesea.
Modda won both encounters during the regular season albeit by five and three points.
In the reserves, Torquay and Drysdale will battle it out to see who meets Barwon Heads in the second-semi final while Geelong Amateur and Modewarre meet in the elimination final.
Qualifying final
Modewarre vs Barwon Heads at Portarlington, Saturday, August 14 at 2pm
Elimination final
Ocean Grove vs Anglesea at Portarlington, Sunday, August 15 at 2pm