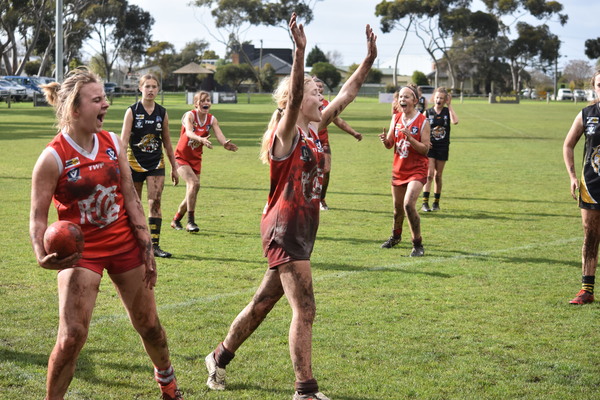 By Mark Heenan
The Grubber Under 15 girls are off to the big dance after a memorable win to savour in the rain and soaking wet conditions on Sunday 11 August.
Ocean Grove 2.2 (14) defeated Grovedale Jen 0.1 (1) to book their place in the Under 15 Division Two grand final against Torquay Canning.
The Grubbers led for the entire match in the wide expansive spaces at Elderslie Reserve in Newtown.
Ocean Grove Under 15s coach Adrian Copeland said he was very proud after the club progressed through to its first ever junior female football grand final.
"Being the first (grand final) for our girls is absolutely huge," Copeland told the Voice.
"The proud factor is beyond the Richter scale."
Star Grubber player Piper Copeland kicked the only goal in the first half, while Ebba Lord kicked a running goal in the final quarter to seal victory.
Grovedale fought the game out and drove the ball inside their forward half a lot in a compelling final term, though the Grubber defenders provided great resistance to keep the opposition goalless.
Euphoric scenes erupted for the Ocean Grove players when the final siren sounded.
The Grubbers will play their grand final match against Torquay Canning at Lara on 18 August at 9am.
Ocean Grove defeated ladder leader Torquay Canning by 18 points in Round 9 on 28 July.