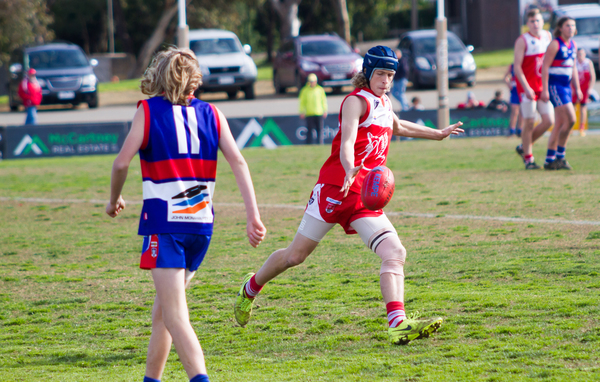 Ocean Grove 2 was gallant but suffered a shattering one-point loss against Queenscliff in a tense Under 16 Division 3 grand final on Saturday 2 September.
Final scores Queenscliff 7.4 (46) to Ocean Grove 6.9 (45) at Spring Creek Reserve, Torquay.
Ocean Grove got off to a flyer with a three-goal opening term and led the Coutas by 13 points at quarter time.
Queenscliff fought back in the second quarter and held a six-point advantage at half time.
In a thrilling last half, both sides went goal for goal, with Queenscliff in front when the final siren sounded.
Mitchell Clark kicked two goals for the Grubbers, while team-mates Xavier Hayter, Jake Hargreaves, Ben Gillians and Pheonix Bowers all kicked one goal apiece.
Despite losing twice to Queenscliff in the finals, Ocean Grove 2 finished the regular season as the ladder leader with a 15-1 win-loss record.
SCORES
Under 16 Division 3 grand final
QUEENSCLIFF 7.4 (46)
OCEAN GROVE (2) 6.9 (45)
Ocean Grove 2
Goals: M. Clark 2, X. Hayter, J. Hargreaves, B. Gillians, P. Bowers.
Best: N. Northam, L. Potiriadis, B. Dunell, N. deBruijn, J. Simpson, W. Lumsden.