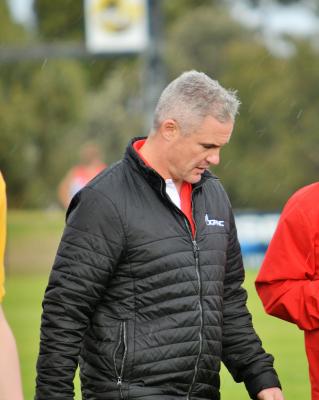 By Justin Flynn
The Bellarine Football League's pandemic-enforced midseason break will allow Ocean Grove to refresh, according to coach Pete Davey.
The Grubbers sit fifth on the ladder after a gutsy win against Geelong Amateur before Victoria went into lockdown, temporarily stalling the season.
"I think the week off will certainly help from a mental perspective," Davey said.
"We've been going hard since mid-January both from a training and educational perspective so a week away from the club where we can all take a well-earned deep breath isn't such a bad thing.
"Our list is really healthy at the moment so physically, we would have been fine to keep going through to the July bye weekend though."
The break came just before Ocean Grove and sixth-placed Drysdale were due to play in an 'eight point game'.
Ocean Grove's 11-point round eight win against Ammos was character-building.
Glenn Campbell again led the way with a best afield performance while Josh Gummer was good and Jake Ward troubled the Ammos' defence with three goals.
"We knew Geelong Amateur would be a tough challenge, especially given it was an anniversary game for them," Davey said.
"We dug ourselves a hole in the third quarter by straying a long way from how we want to play but to the group's credit, they responded in the last after falling behind and without being spectacular, did what they had to in order to win.
"The way we responded after three-quarter time showed some character. We found ourselves a goal and a half down early in the last quarter and with a rowdy home crowd, some teams may have said 'this is a little too hard'.
"The fact that we regrouped and kicked the final three goals of the game showed a lot of resolve."
Davey said his side was "growing and improving" each week.
"Our goal this year was to get senior experience into our younger guys and win, lose or draw, we'll continue to do that in the second half of the season," he said.
"To date, we have debuted ten players and there's probably another five in our under-19s, and potentially a couple in our under-17s, who may also get their opportunity over the next 10 weeks.
"Everything we are doing this year is done with an eye on setting the club up to be a regular contender from 2023 so to be playing competitive and at times very attractive football, with such an inexperienced group, I think validates the direction we're taking and gives all of us a lot of heart."
In the reserves, Ammos proved too good with a 23-point win. Ocean Grove was goalless at half time and trailed by 61 points, but a stunning turnaround would have pleased the coaching staff.
Grove booted three goals to two in the third term and five to nil in the last to run out the game the stronger team.
Ben Potter was best for Ocean Grove and Bailey Cameron booted three majors.