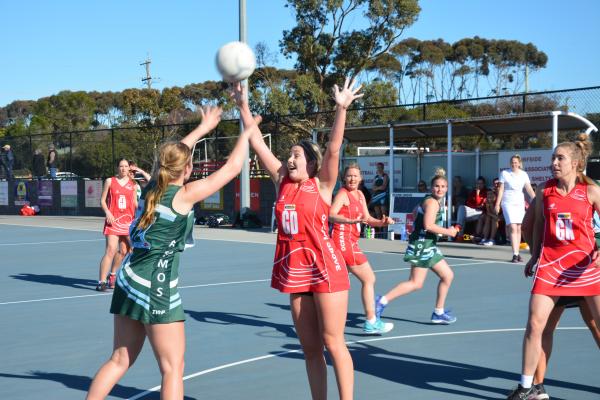 By Justin Flynn
Ocean Grove is on the verge of clinching a Bellarine Netball Association A Grade finals spot after defeating Drysdale on Saturday.
All five Ocean Grove senior teams will play finals.
Piloted by best on court Jessica Griffin, Ocean Grove only needs to beat Anglesea this weekend to secure an elimination final berth and can even climb into third position if Barwon Heads and Modewarre lose.
The B Grade team will most likely face arch rivals Barwon Heads in a qualifying final. Top spot is still on the cards, but bottom side Newcomb would need to cause the upset of the season against Ammos.
A win against Anglesea will see Ocean Grove's B Grade side go through the home and away season unbeaten.
In D Grade, the Grubbers could finish anywhere from first to fourth, but will most likely be playing a qualifying final against Torquay.
The E Grade side will finish in fifth spot and will play either Geelong Amateur or Torquay in an elimination final.
ROUND 17
A Grade: Ocean Grove 39 def Drysdale 34. Best: Jessica Griffin, Emily Moroney, Brittany Hyland.
B Grade: Ocean Grove 68 def Drysdale 23. Best: Meg Badrock, Mia Smith, Isabel Hackett.
C Grade: Ocean Grove 30 def Drysdale 25. Best: Meagan Bothe, Heidi Bennett, Rorri Phibbs.
D Grade: Ocean Grove 51 def Drysdale 19.
E Grade: Ocean Grove bye
19/U: Ocean Grove 37 def Drysdale 29. 17/U Section 1: Ocean Grove 25 def by Drysdale 30. 17/U Section 2: Ocean Grove 42 def Drysdale 11. 15/U Section 1: Ocean Grove 22 def by Drysdale 23. Best: Madeleine Stubs. 15/U Section 2: Ocean Grove 27 def Drysdale 14. 13/U Section 1: Ocean Grove 24 def Drysdale 13. 13/U Section 2: Ocean Grove 21 def Drysdale 8.