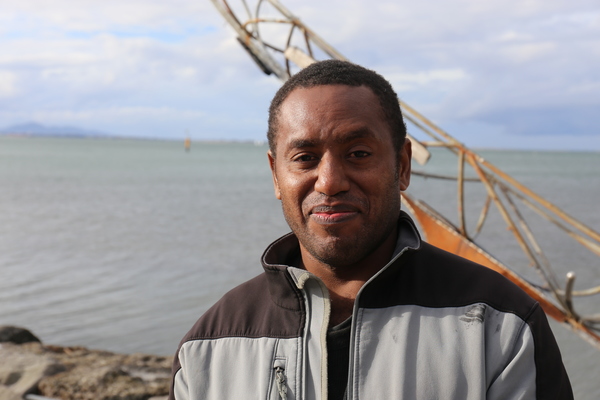 OCEAN Grove will host Papua New Guinean artist Leonard Tebegetu this month, as part of Geelong Council's Mountain to Mouth walk.
"This is an opportunity to share my knowledge and to learn from all the amazing artists around here," Leonard told the Voice recently.
Mountain to Mouth is an "extreme arts walk", which explores the scenery and culture of Geelong and the Bellarine.
It's the first time staying in Ocean Grove for the 36-year-old artist, who is married with one "beautiful" daughter.
Art became a way of life for Leonard, after dropping out of law school and working several jobs, none of which suited him.
"For me art was born out of necessity," he said.
"I found I could do it naturally and got quite good at it."
He works mainly with bamboo, which he said "is not used to fullest potential" in his home country.
"My intent is to push the medium to its extremes and new possibilities," he said.
This month, Leonard and Australian artist Mahony Maia Kiely will create the Mountain to Mouth's lead artwork: Canoe.
The Port Moresby artist was at Eastern Beach on 3 April for a council ceremony celebrating the commission of the piece.
"I'm looking forward to engaging in cultural and creative exchanges with Indigenous Elders and local artists," he said.
Leonard and Mahoney have already worked together at the Pacific Games Opening Ceremony.
He was head designer for props for the ceremony, and supervised 35 local people to making them.
The canoe will carry water 80km around Geelong and the Bellarine, from the ancient rockwell at Big Rock, You Yangs, to Barwon Heads, during 6 and 7 May.
"I'm looking forward to seeing the path it will travel," Leonard said.
"I went up to the You Yangs yesterday – it's a beautiful place."
The council's arts and culture portfolio holder, Councillor Andy Richards was thrilled to see the pair collaborate again.
"Mountain to Mouth 2016 will enable a stronger dialogue and deeper understanding of Indigenous cultures in both Papua New Guinea and Australia," he said.