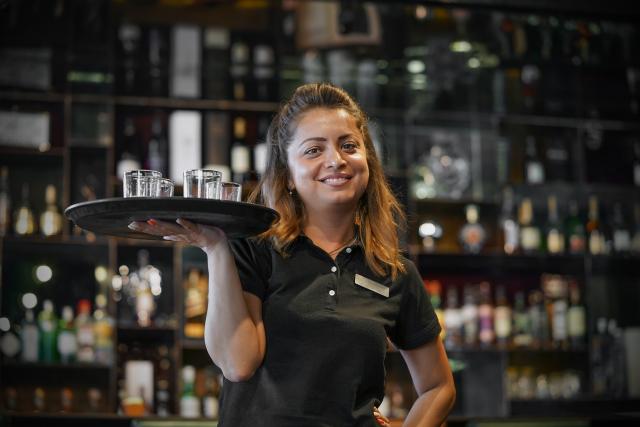 We all know that wait staff in cafes and restaurants can have a big impact on our enjoyment of a dining out experience – for good and bad – but how often do we stop and consider what they think of us?
Anyone who's ever worked waiting tables knows what hard work hospitality can be, but as customers, we can sometimes treat them as servants rather than people with aching feet, minds filled with orders, and diplomacy talents in full swing. They work hard to keep us happy and deserve kudos for smiling, even when they may be seething inside.
So what is it about diners that causes the burn? Here are a few to think about and if we're guilty of this behaviour:
1. Snapping fingers or whistling to gain their attention, or calling out when they're taking an order at another table. Be patient and respectful when trying to get their attention, they aren't ignoring you and will make their way to your table when possible.
2. Not using please and thank-you. This is just basic decency! Yes, they are paid to be there, but that doesn't mean they should be treated like less of a human.
3. Stacking dishes in an impossible pile they then have to separate. If you scrape food scraps onto the top plate and stack dishes into a neat pile, great job! If you randomly stack different sized dishes with food scraps and rubbish in between, you are making more work for hospitality workers than you are helping them.
4. Stuffing napkins or straws into mugs, glasses or other furniture and decor – leave them beside or on your plate! Nobody wants to be digging bits of rubbish out of tiny spaces in the table or water bottles – this is just common sense.
5. Leaving used tissues and other nasties for them to collect – ew! Find a bin or visit the bathroom to get rid of your waste.
6. Complaining about the meal – after you've eaten it all! If there is a problem, let them know as early as possible so that they can find a replacement or alternative for you.
7. Ignoring them as they're speaking or going through the specials – it's part of their job to inform you of the menu offerings or specials, pay some attention and be respectful – it won't take too long.
8. Letting your kids get out of hand, eg. messing around with things or roaming around – it's an accident waiting to happen.
9. Arriving 10 minutes before closing time – use your discretion with this one. If they're just about packed up and ready to shut the doors, perhaps consider visiting another establishment.
10. Getting mad at wait staff for things that aren't their fault – these people are the ones that take your order, carry your food and drinks and clear your table. They don't cook your food, they don't set the prices and they don't turn the aircon or music up just to irritate you. Take into consideration the fact that an issue you may have is unlikely to be their fault, so be understanding and let them know that you need their help, rather than blaming them for the issue.
As more and more Aussies choose eateries in their immediate neighbourhood to claim as their 'local', our faces as regulars become known. So if any of us are guilty of no-nos without even stopping to think about the effect, we might be put on the unspoken list of 'annoying customers'.