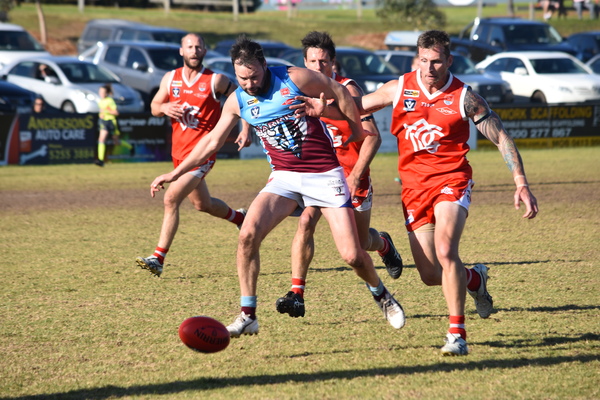 By Mark Heenan
Ocean Grove requires two wins from its final two games of 2018 and hope that results fall its way if it is to play in this year's BFL finals.
The Grubbers finish the season with away fixtures against Drysdale at Mortimer Oval this Saturday and a Round 18 clash against Queenscliff on 11 August.
Drysdale eliminated reigning premier Torquay (7-9), which is now in seventh spot, from the finals race with a four-point win on Saturday.
"They are done down now Torquay," said Ocean Grove coach Paul Lynch said.
Modewarre (9-7) sits in fifth and meet ladder leaders Barwon Heads on Saturday and third-placed Geelong Amateur in Round 18. Both games are at Modda.
Fourth-placed Queenscliff (10-6) who upstaged Geelong Amateur on Saturday by 12 points, face second-placed Anglesea at home this Saturday.
"We can still make it, but we need a few things to go our way. We need to beat Drysdale and Queenscliff and we have got to have a bit of luck ourselves," he said.
Ocean Grove will be boosted with the return of the suspended James Linton and Travis Gavin and key pair Jake Carmody and Peter Hardy from injury and illness for the Hawks' clash.
Lynch conceded Drysdale's recent good record over the Grubbers means it will be a tough game.
The Hawks have won their past two games against Ocean Grove though the Grubbers claimed victory in their most recent encounter at Mortimer Oval in Round 5 in 2017.
"We sort of have had trouble with Drysdale – it will be an interesting game," he said.
"We get a few back with Linton, Carmody, Trav Gavin and Pete Hardy."
IN other developments, Lynch has given a big indication he will remain as senior coach at Ocean Grove for a third season in 2019.
Lynch admitted on Saturday there would be a focus on recruiting players for 2019 with elite kicking skills.
"Well I have made a pretty big commitment this year to find players next year that can kick the footy and are elite kicks of the footy – that will be our main focus," he said.
"You are always hoping to bring leadership wherever you recruit."
The Voice contacted OGFNC prior to deadline and the club said it was still "in discussion" with Lynch for next season.
Ocean Grove's senior game at Drysdale takes place at 2.10pm this Saturday.