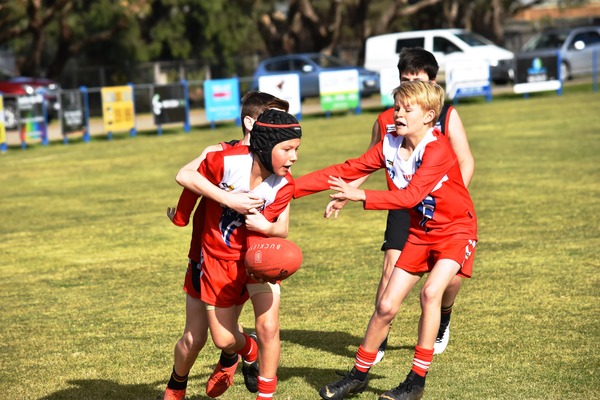 Under 13
Division 1
Cobras Walter 6.7 (43) def by Ammos Barton 10.7 (67)
The Ammo boys proved too strong for the Cobras in the second and third quarters this week, with the boys making up some ground in the last quarter.
Jamieson Hallam repelled a number of Ammo attacks across halfback and Miller Keck was again a prominent player.
Division 4
Cobras Pearson 2.7 (19) def by South Barwon Garvey 5.5 (35)
The Cobras couldn't capitalise on early shots at goal and the opposition seemed more desperate. A rev-up at halftime kicked the boys into gear and they levelled the scores going into the last stanza. Despite another valiant effort by the backline, South Barwon was able to kick ahead and win the game. Awards: Sam Eales, Gus McCartney, Kayden McCracken, Luke O'Brien, Riley Stone, Makani Storey.
Division 7
Cobras Every 6.6 (42) def St Mary's Hosking 1.4 (10)
Division 8
Cobras Dean 1.1. (7) def by Bell Park Lynch 23.19 (157)
Under 11
Cobras Farrell 7.6 (48) def by St Mary's Bath 8.3 (51)
We started slow, with little energy and enthusiasm as St Mary's attacked the ball to hold a large lead at half time. The second half produced a total form reversal. Our field kicking was superb, led by Bodhi Hateley and Keegan Johnson, as we transferred the ball regularly from one end to the other. A screamer by Jensen Constable spurred on the team, which dominated the second half to get right back in the game.
Cobras McManus v St Joseph's Leaping
Cobras Moroney 5.5 (35) def by Bannockburn Grinter 1.3 (9)
Under 10
Cobras Jones 3.2 (20) def by St Mary's Davie 4.11 (35)
Jones had a solid game, starting very well, but then St Mary's did a better job locking the ball in its forward line when kicking with the breeze. Brad Bennett played exceptionally well in the backline and Troy Stibbard showed why we have missed him for the past couple of weeks. Awards: Fletcher Atkinson, Troy Stibbard, Brad Bennett, Baxter Briggs, Ned Lewis, Lucian Joyce. Cobras O'Keefe 8.6 (54) def Inverleigh Hawks 2.4 (16)
It was a tough start for both teams in slippery conditions, but after quarter time we came out strong with four goals. It was a fast game, with both sides running hard and moving the ball on at every opportunity. The boys played a fantastic game of football and six different goalkickers delivered a great win. Awards: Josh Anderson, Reuben Cook, Harry Lyons, Trey Morrow.
Cobras Cordy 2.3 (15) def by Torquay McCartney 5.0 (30)
Under 9
Cobras Allan (2) def by St Joseph's Flying (65)
A slow start from Allan saw Joey's jump out of the gate and from there it was really one-way traffic. The boys tried hard, tackled well and displayed some great teamwork but, in the end, St Joseph's Flying were too strong. Awards: Jack Gurrie, Lachlan Johnson, Thomas Lamb, Sam Wingrave.Cobras Dalton 5.6 (36) def by Eagles McMahon 10.3 (63)
Although defeated, the Cobra boys played well and the opposition were good and fair. We had a wonderful passage of play in the first, resulting in a snap goal to Paddy McCaffrey, with another to Ray Carter in the second as we racked up midfield possessions. The boys lit up in the third, with goals from Xavier Hanson and Arthur Wynn, and Lous Belsar-LeBel bursting through the packs. Arthur Wynn, Josh Grant and Max Robinson were standout performers in the last. Awards: Rohaan Kanyalkar-Thomson, Finlay Macrae, Patrick
McCaffrey, Hugh Rolfs, David Wilkens.Cobras Norquay 9.3 (57) def Barwon Heads Blue 1.2 (8)
Cobras Norquay played Barwon Heads Blue and both teams moved the ball fantastically, showing plenty of skill. What a great team effort from the Cobras, who were captained by Blake Harris. Awards: River Wright, Patty Wolfe, Ollie Banks, Jack Crea.
Cobras Stow 4.4 (28) def St Mary's Collins 3.4 (22)
It was a fantastic game as both Stow and Collins moved the ball swiftly from end to end with great skill. The pressure was intense as our kids hit the lead late and held on in the dying stages. They have shown massive improvement over the season and it's great seeing the reward for effort. Awards: Archie Heenan, Felix Todd, Jude de Jong, Harry Larsen, Brodie Munn, Nate Bush.
Cobras Durran 5.1 def by Bannockburn Wood 10.3 (63)
Cobras Taylor 0.2 (2) def by Torquay McCartney 6.11 (47)