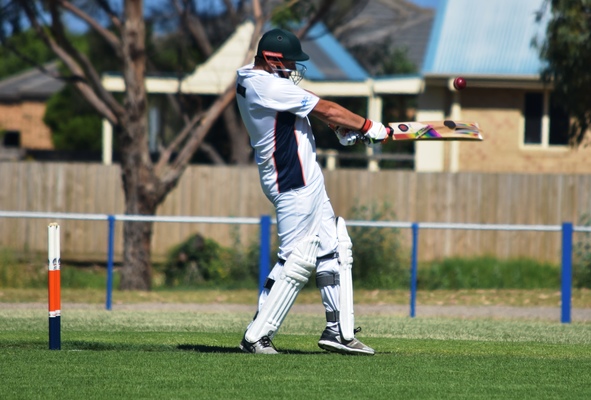 By Mark Heenan
COLLENDINA B1 suffered an 80-run loss to Portarlington in their one-day clash at Portarlington on Saturday.
The Demons won the toss and batted first in fine conditions and laid the foundation to build a competitive total of 6/220 from 40 overs.
Portarlington opening batsmen Michael Malley (70) and Ashley Gillett (73) shared in a 131-run first wicket partnership.
Cobra Dave Treharne was his side's most successful bowler with 3/39 from eight overs.
In reply Collendina were all out for 140 from 39.2 overs.
Cobra opener Chris Thompson top scored with 35, while Portarlington bowler Travis Lang stood out with 4/21 from eight overs.
PORTARLINGTON defeated Collendina by seven wickets in their C2 one-day game at Portarlington's No.2 oval on Saturday.
Batting first the Cobras made 6/140 from its 40 overs, in reply the Demons finished at 3/141.
COLLENDINA also lost its one-day clash against Jan Juc by 68 runs on Saturday 19 January.
The Ocean Grove Voice was on hand to take action images from the Cobras game against the Sharks.
Jan Juc batted first to compile 6/182 from 40 overs, while in reply Collendina were bundled out for 114 from 36.1 overs.
COLLENDINA D Grade defeated Barwon Heads by six wickets in their one-day game at Barwon Heads on Saturday 26 January.
The Seagulls won the toss and batted first to finish at 8/170 from 40 overs.
In reply Collendina won with seven overs to spare and ended the day at 4/189 from 33 overs.
Cobra pair John Mills (70) and Chris Pitfield (62 not out) put the finishing touches on victory and shared in a 99-run third-wicket partnership.