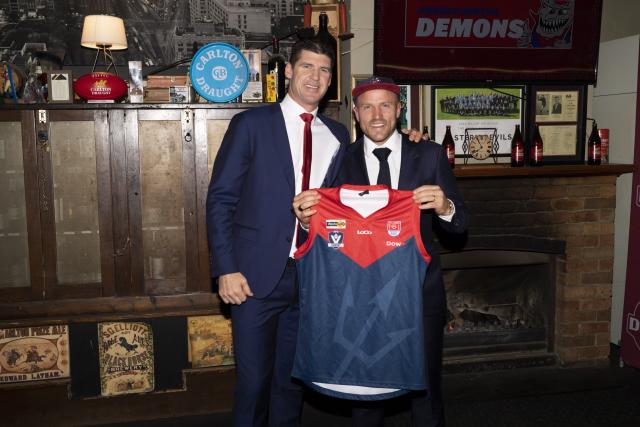 Ash Bolt
Former Melbourne captain and 300-game star Nathan Jones is set to pull on the red and blue one more time – but this time for Portarlington.
The Demons were one of eight regional football clubs chosen to take part in the Carlton Draft, an initiative run by Carlton Draught to support grassroots clubs doing it tough over the past few years.
Eight former AFL stars, including Eddie Betts, Dale Thomas and Jarryd Roughead, nominated for the draft on Wednesday night, with Portarlington selecting Jones with the first pick.
The pick means Jones will pull on the Demons' red and blue for their game against Ocean Grove on July 9.
Jones said he was excited to take part in the initiative and get down to the club.
"It should be a bit of fun," he said.
"It's ironic that I've been picked by Portarlington because I've only ever worn the red and blue throughout my career – first with Mt Eliza in the juniors and then Melbourne – so I'm looking forward to doing it again.
"I don't know a lot about Portarlington or the club but I've heard great things and I can't wait to get out there.
"I was hands down not going to play footy at all this year, but when this opportunity came up, it was pretty easy to say yes.
"It's a really worthwhile cause to get out there and help some of our local clubs that have been having a tough time.
"Hopefully I'll be in some reasonable form, Portarlington will get a win and then we can have a few beers and a couple laughs together after the game."
Portarlington Football Netball Club president Steve Cogger said it was an exciting time for the club.
More than 100 players, volunteers and supporters spent Wednesday night at the Portarlington Golf Club to watch the draft and Cogger said the club was rapt to get Jones.
"We would have loved to have any of the players, but to get the one we really wanted is fantastic," he said.
"The players are beside themselves – we have a young group and they are looking forward to playing alongside him and learning from him."
Cogger said the club was thankful for the opportunity to be involved in the initiative.
"This is a great opportunity for us to promote our club and our community and we want to take it with both hands," he said.
"We're proud of our club – we're a well-run club off the ground, we just need to turn around the on-field side.
"This is a real chance for us to bring our club to the fore and we can't wait.
"We just had a huge Anzac Day game against Drysdale with a remembrance ceremony on the ground before the game, which was amazing. The crowd we had was the biggest I've seen it and hopefully that will continue."