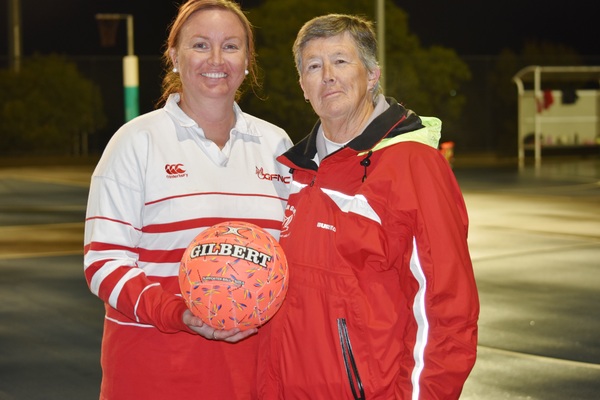 By Mark Heenan
Popular Ocean Grove netballer Tina Birch wears many netball hats.
A long-time senior club netballer, she is a goaler who scores goals, she has coached, she is a netball umpire and she is one of the most loyal Grubber supporters you would ever meet.
She has played across A, B, C, and D grades at Ocean Grove.
On 22 June, Tina, 29, played her 200th senior game for Ocean Grove and while her C Grade team went down in a thriller after they lost 23-26 to Drysdale it did not dampen her enthusiasm for the day.
"This is my 12th year of playing senior netball," she said.
She had a guard of honour before her match and a special commemorative poster was designed by club to celebrate her netball life at Ocean Grove.
"The Drysdale C Grade girls after our match finished did three cheers for me for my 200 senior games," said Tina, who scored five goals from seven attempts.
Once her C Grade duties were over, she swapped her red Grubber playing strip for netball whites to umpire the 17 and Under Division 2 clash between Ocean Grove and Drysdale.
What makes Tina's netball milestone remarkable was the former club junior is forced to play the sport she loves with two hearing aids in both ears as she has a hearing impairment.
Tina picks up on body language and hand signals from her teammates on court and when asked how she blocks out noise with other players and the loud intimate crowd cheering she confessed.
"I am deaf, I just don't listen," recalls Tina with a laugh.
"When anyone is trying to get my attention like the coach on court – I just look at the coach when they are talking.
"During the training I watch and learn and how they play."
"She (Tina) lip reads," said Lorraine Birch, Tina's mother.
An Ocean Grove local, Tina has played representative deaf netball and last year she won a gold medal in mixed netball at the Australian Deaf Games for Victoria.
She has travelled overseas to play at a junior netball festival in Hawaii in 2005 and later this year Tina heads to Fiji for a senior netball festival.
Club Director of Netball Famie Needham said the milestone was a great tribute to Tina and the Birch family.
"Tina is amazing, the Birch family do so much for the club – they have laid a lot of the foundations and they are the heart and soul and they are a solid family," Needham said.
"Tina is a great model for the little ones – they look up to her."