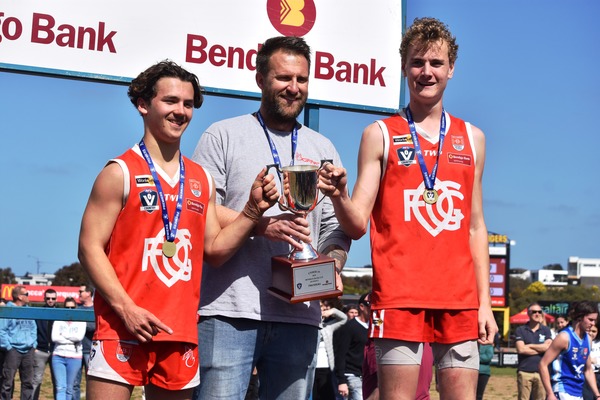 By Justin Flynn
A trio of Ocean Grove footballers have made the trek to the Top End to compete in the Northern Territory Football League season.
Kobe Annand, Max Sutton and Josh Lange will line up with Palmerston Magpies with the season getting under way next weekend.
With no footy played in Victoria this year, the lads were keen to compete in the competition, which takes place during the NT wet season.
Annand, Sutton and Lange played in Ocean Grove's premiership-winning Under 19s side last year and were helped in getting to Palmerston by current Grubbers coach Pete Davey.
After two weeks of quarantine in a cabin, which Annand described as "pretty easy to be honest", the boys are now training and ready for round one.
"We got there on the day, got fed three meals a day," he said.
"The food wasn't great but besides that it was alright, I sort of really enjoyed it.
"There were no stresses or anything, you got to go out on your balcony and exercise every day. You just needed to wear a mask when you were out of your room."
The boys had to self-fund their quarantine costs, but because they are low-income earners they only had to pay half of the $2500 fee.
They finished their quarantine the day before the Dreamtime game between Richmond and Essendon, and were able to secure tickets and attend.
With Victorian football cancelled this season, Annand said he was getting restless at the prospect of not playing competitively until at least 2021.
"Early in the year when all the talk of the season getting cancelled came about, I came home from training one night and spoke to mum and dad about it," he said.
"They said if you really want to take footy seriously, why don't you get up north.
"I was just working at Bakers Delight in Ocean Grove and I really needed to figure out what I wanted to do.
"So I decided to give footy a crack for a few years and give it everything.
"I spoke to Josh about it and he was really keen on it. Max came up as well."
Annand is hoping to play at centre half-back this season after growing to 198cm.
He is impressed by the quality of grounds that he will be playing on and is starting to get used to the infamous Top End Build Up, the period between the dry and wet season which is dominated by high temperatures and humidity and little rainfall.
"We haven't had to train in that (the wet) yet but it will be a big shock when it comes," he said.
"They reckon they're getting a big wet this season.
"The grounds are in such good nick. It's still rock-hard here and it doesn't really get muddy. They really look after their grounds."
Annand said he was surprised at how quick the style of play was in his first practice match.
"The one praccy match we played, there were no defensive set-ups at all," he said.
"As soon as the opposition find the ball, it's find a man and try and run with them.
"It's just so fast moving. Bouncing from forward line to forward line until somebody scores.
"I found it quite easy to get out when we had the ball. The forwards don't chase so as soon as we got the ball I made it a habit to take off and move up the ground."