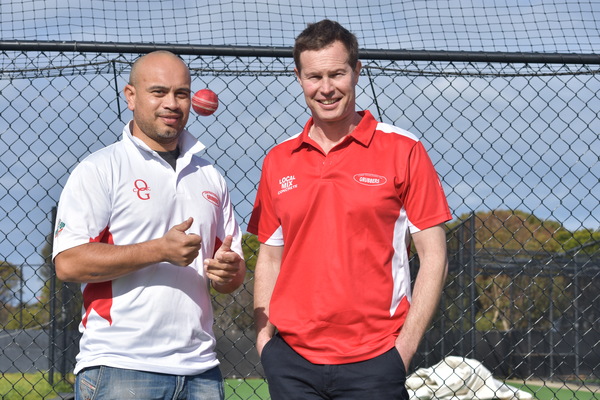 By Mark Heenan
Ocean Grove Cricket Club has wasted no time in appointing its new assistant playing coach as they strive to win an elusive A Grade title in 2018/19.
New recruit Anton Scholtz will be senior playing coach and Paul Jubber's right hand man for the upcoming season.
The Surf Coast based father of two Scholtz, 41, has a strong cricket pedigree having coached and played overseas at a high level in Ireland.
The batting all-rounder has played more than 220 games for Victorian Premier Cricket club Melbourne, including 55 first XI appearances.
Scholtz, South African born who moved to Australia as a six-year-old, will return to playing cricket in 2018/19 after a few seasons off due to family commitments."I have had a couple of years out with family and kids and so forth and moving down to the coast a couple of years ago, so it is an attraction to get back into things while the body is okay," said Scholtz, who captained-coach Dublin-based Leinster Cricket Club in Ireland from 2009-11.
"The decision was a no brainer really if I was going to play again."
He was a teammate of Jubber's at Melbourne, and Jubber said his inclusion will be invaluable.
"To have someone like Anton who is outstanding for the club, he will bring a wealth of experience," he said.
Scholtz, alongside Jubber, has already met with several Grubber players in recent weeks.
Scholtz admits there is a buzz and excitement amongst the playing group ahead of the 2018/19 season.
"There is an energy around the club that is really exciting – they know success is sort of imminent," said Scholtz.
"The club has come on leaps and bounds in the last few years – they have got a huge amount of young talent there.
"I have been following the club for the last few years and the depth of the club has been excellent and seems to be going in the right direction without that ultimate success of an A Grade flag."
The Grubbers went close to breaking their 15-year A Grade premiership hoodoo last season after a runner-up finish against premiers Anglesea.
Ocean Grove's last A Grade premiership was in 2002/03.
IN other off-season developments Paul Jubber re-committed as senior coach for another year at Ocean Grove.
Jubber confirmed there was a level of unfinished business despite Ocean Grove winning the overall Ron Lloyd Club Championship Bellarine Peninsula Cricket Association Shield in 2017/18.
"There was an element of unfinished business – I am generally excited about the energy around the place," he said.
"I think we have worked hard over the course of the last few years to generate that environment and felt that I had a little bit more to give."
Ocean Grove Cricket Club will commence pre-season training in early August.