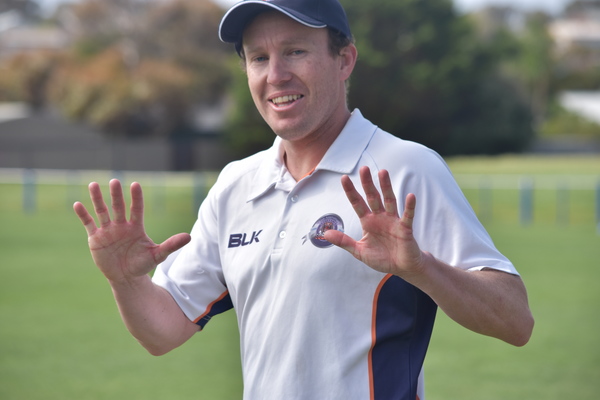 By Mark Heenan
Collendina came away with three points in a rain affected drawn one-day match against Surf Coast rivals Jan Juc at the Snake Pit on Saturday 20 October.
After three rounds, the Cobras sit in third spot on percentage with one win, one loss and a draw.
The start of play was delayed with inclement weather which meant there was no guarantee of a result.
The nearby BPCA A1 one-day match between Barwon Heads and Anglesea at Barwon Heads was called off due to a wet pitch.
"We lost five overs at the start of the day – the side batting first still got their 40 overs, but five overs come off the side batting second," Jan Juc playing coach Ben Grinter said.
"We had to take ten wickets and they had to make the runs for a result."
Jan Juc won the toss and batted first and faced its full 40 overs.
Star batsman Ben Grinter (70) was in damage control with an aggressive half-century. He combined in a 78-run third wicket stand with Iva Priest (45).
"Obviously Benny Grinter got away from us a bit – which is going to happen because he is a star," Collendina Cricket Club captain Nathan Walter said.
A surprise bowling change saw the Cobras introduce Ben Ricardo, who removed the dangerous Grinter.
"We had to fill an over so bowlers could change ends, so I was just lucky," Ricardo said.
Cobra paceman Sam Tucker took vital wickets in the Sharks' middle order and finished with 2/17 from six overs, while Nathan Walter claimed 2/31 from seven overs.
Collendina stalwart Charlie Lamb bowled economically with 1/18 from eight overs, while Jye Hearps, Kade Norquay and Dwaine Lancaster were all unavailable.
Youngster Craig Goodger was impressive in the field, running out Priest with a direct hit at the stumps.
Jan Juc finished its innings at 8/160 from its 40 overs.
In reply, Collendina had 35 overs to chase down 161 for victory for a six-point result, while the Sharks had to take 10 wickets to claim the win.
Collendina finished at 3/89 from 35 overs.
Walter said obtaining three points was valuable for its A1 side.
"We needed the three points, three points is better than none for us," he said.
Ricardo was 34 not out at stumps while Max Sutton contributed with 23.
COLLEDINA defeated Drysdale by four wickets in their Round 2 one-day clash at Drysdale on 13 October.
Chasing down 159 for victory the Cobras finished at 6/165 after 39.4 overs in the 40 over per side match.
DRYSDALE cruised to a nine-wicket win over Drysdale in the B1 one-day game at Drysdale on Saturday.
Batting first the Cobras were restricted to 9/112 from 40 overs.
In reply the Hawks won with 19 overs to spare to finish at 1/116 from 21 overs.
Jason Peoples top scored for Drysdale with 73.
COBRA Gavin Berry led the way with the bat in Collendina's two-wicket win against St Leonards in C1 at Bellarine Secondary College's Ocean Grove campus.
Berry guided the Cobras to victory with three overs to spare with an unbeaten 49.
Batting first St Leonards made 121 from its 40 overs, while the home side finished at 8/131 from 37 overs.
COLLENDINA (5/110) defeated Ocean Grove (8/103) by five wickets in a D Grade one-day clash at St Leonards.