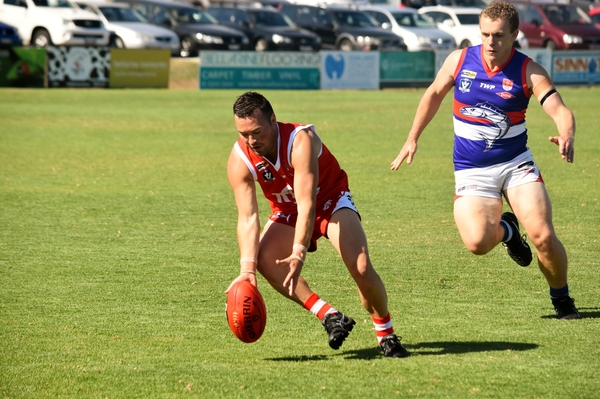 Ocean Grove thrashed Queenscliff in the reserves grade clash by 88 points on Saturday.
Final scores Ocean Grove 18.14 (122) to Queenscliff 5.4 (34).
Grubber forward Cory Connor continued his dominance and finished with six goals and increased his tally to 12 goals after three matches.
Ocean Grove ruck Tom Roberts was outstanding on the ball and posed a big threat when going forward to snare four majors.
Ocean Grove playing coach Cheyne Kelly finished with two goals, while Hamish Hoober booted two majors.
Emmet Maloney had an outstanding game and drove the ball forward inside 50 with repeat entries.
It was the Grubbers' biggest win in 2019.
Queenscliff was competitive in the first quarter and only trailed by nine points at quarter time.
It was an onslaught after quarter time where the home side booted 15 goals in the final three quarters compared with Queenscliff's three majors.
Ocean Grove's win sees it sit in fourth place on the ladder with a 2-1 record after three rounds.
UNDER 19s
Ocean Grove Under 19s had the bye on Saturday due to the Easter long weekend.
The Grubbers Under 19s team will next play Leopold at Leopold Community Bank Oval this Saturday 27 April at 10am.
Ocean Grove has won both Under 19 grading games in 2019 with wins over South Barwon 1 in Round 1 and Drysdale and Round 2.