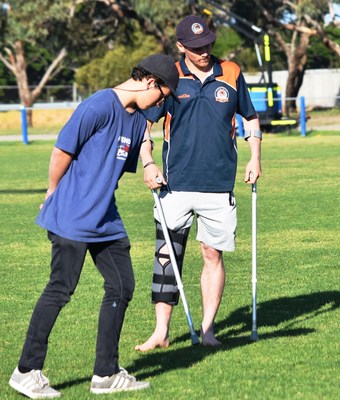 By Mark Heenan
Scans have confirmed Collendina Cricket Club A1 captain Nathan Walter will miss the entire first half of the 2019/2020 season with a knee injury.
The 26-year-old went down with a right knee which collapsed at the batting crease during the Cobras' round one loss against Anglesea at Anglesea on 5 October.
He was forced to watch from the sidelines with a knee brace during the club's eight-wicket loss to Ocean Grove at Collendina on 12 October.
"Definitely won't play this year and (will require) no surgery which is good," Walter said.
"Should be fine after Christmas."
Walter who scored 505 runs at 36.07 and took 20 wickets at 21.45 last season, revealed he had not torn his ACL, though he suffered significant damage to his right knee.
"Turns out I have a grade two (partial) medial tear, torn my lateral meniscus, ruptured my fibres around my patella and dislocated my patella," he said.
"I am probably looking anywhere between six to ten weeks I reckon.
"It was relieving it was not going to be a 12 month injury."
Walter aims to return for the club's round nine one-day clash against Barwon Heads on 11 January, the first game of 2020 after the scheduled Christmas new year break.
The Cobras faced an uphill to commence the new season with defeats against last season's A1 grand finalists Anglesea and Ocean Grove in the first two rounds.
MEANTIME experienced Cobra Jye Hearps will captain the A1 team in Walter's absence.