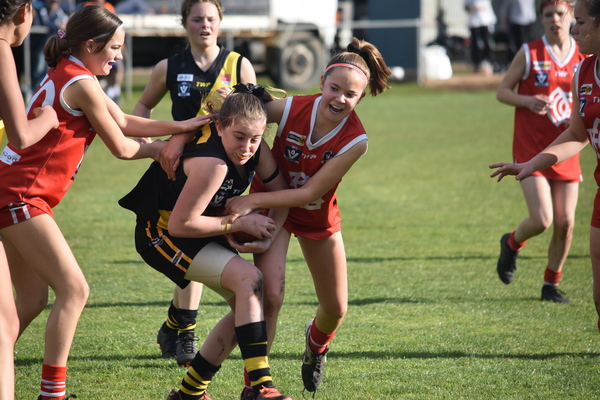 By Mark Heenan
Proud Ocean Grove junior football coach Adrian Copeland said his young Under 15 female players have had an amazing rise in 2019 despite its two-goal grand final loss.
Torquay Canning ended the Grubbers' fairytale season ride in the Under 15 Division Two grand final on Sunday 18 August.
Ladder leader Torquay Canning 4.7 (31) defeated Ocean Grove 2.7 (19) in fine conditions at Lara.
Third-placed Ocean Grove came in with momentum after a five-game winning streak, the highlight a victory over Torquay Canning in Round nine and finals' wins against South Barwon and Grovedale.
Copeland said participation and fun had been a focus since the start of season, though a mid-year fierce determination to succeed saw his young team make its charge towards finals.
The young Grubbers created history this month and became the first Ocean Grove female football team to win a final and make a grand final.
"They are an unbelievable bunch," Copeland told the Voice.
"When you think back to early season we were just there to play and they were having fun.
"Early season it was all about mateship and fun and thought you know what we will work with that and work off it for next year.
"But half way through the season something just clicked like the fight in them and desire just clicked inside them – that just having fun turned into want and desire."
Both Ocean Grove and Torquay had strong support in the decider, passionate fans turned out in droves and were dressed in red and white and yellow and black with beanies and streamers.
Copeland was impressed with Ocean Grove's loyal club fan base which travelled to Lara.
"It was absolutely fantastic," he said.
"Just to look around and see the crowd of red (and white) and hear that roar when the goals were kicked or (when) a good tackle was laid…. I had goosebumps all over me," he said.
TORQUAY won the toss and kicked with the aid of a breeze at the scoring end and led a scoreless Grubbers at quarter time.
Ocean Grove recovered in the second term in a low scoring contest, a highlight a goal from Grubber youngster Georgia Gill.
Scores were level at half time.
Torquay dominated with inside forward entries with the wind in the third term and scored 2.3 and led by 13 points at three-quarter time.
Young Grubber Skye Hilbebrandt booted a much needed team goal in the opening moments of fourth term to reduce the margin back to six points.
Torquay lifted its intensity in the back half of the final quarter and scored a goal at the non-scoring end to help capture victory and end the Grubbers' five-game winning streak.
"Torquay had the upper hand (and) they were everywhere and when we kicked the ball our players were never in front, so therefore the ball ended up in their arms," Copeland said.
The Tigers defeated the Grubbers in two of their three outings in 2019 including a win in Round four.
LARA Recreation Reserve was the host venue for the seven AFL Barwon female football grand finals – two senior grand finals and five junior end of season deciders on 18 August.
SCOREBOARD
UNDER 15s DIVISION TWO GRAND FINAL
TORQUAY CANNING 4.7 (31) def OCEAN GROVE 2.7 (19)
OCEAN GROVE
Goals: G. Gill, S Hildebrandt.
Best: E. Lord, P. Copeland, A. Cormack, B. Withers, K. Murray, S. O'Kane.