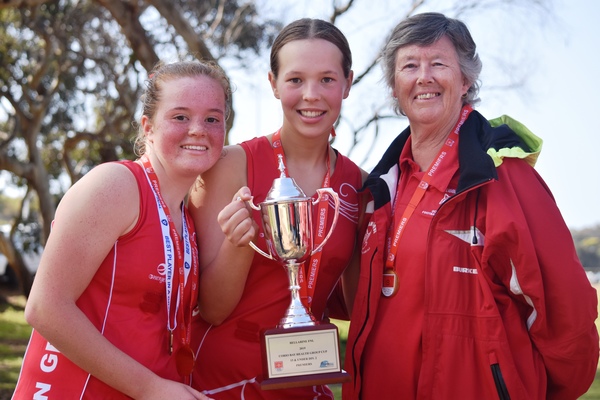 By Mark Heenan
The Grubbers 15/Under Division 2 victory over Geelong Amateur saw Ocean Grove claim the first two premierships on Bellarine Football Netball League grand final day.
Ocean Grove won 26 to defeat Geelong Amateur 19.
The 8:30am game saw a tight contest with both sides level at quarter time at 6 all.
Ammos gained a slight advantage in the second term to lead 13-10 at half time.
Ocean Grove 15/Under Division 2 coach Lorraine Birch said her side's desire to win the second half was amazing.
"We were down at half time and they came out and they really pushed in the third quarter and just turned the game around," Birch told the Voice.
"They were just determined, they really wanted to win, so we just talked about putting pressure on and forcing the opposition into mistakes and minimising our mistakes."
Ocean Grove turned around a two-goal deficit at half time to lead the Ammos at three quarter time 18 to 16.
The Grubbers' defensive pressure was outstanding lead by captain Isabella Jubber, who also shot six goals, and also Evie Hines.
Ladder leader Ocean Grove continued to build momentum, they kept Geelong Amateur to three goals in the final term.
The Grubbers scored seven goals in the fourth quarter to win 26 to 19.
The best on court medal was awarded to Ocean Grove's Evie Timms-Honner who played a brilliant second half.