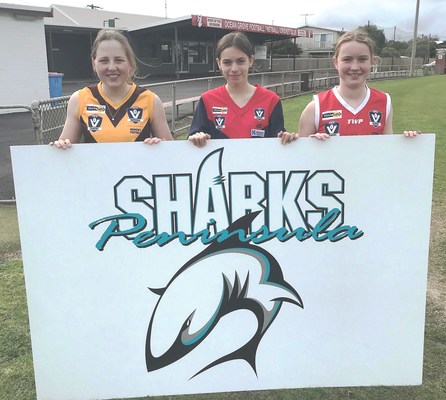 By Mark Heenan
The region's newest footy team has taken shape on the Bellarine with young Ocean Grove women given an opportunity to play in an Under 18 competition in 2020.
The Peninsula Sharks, which consist of local clubs Drysdale, Ocean Grove, Portarlington and Queenscliff, was born to accommodate the growing interest in women's Australian Rules football on the Bellarine.
The Peninsula Sharks Under 18 concept has been locked in for three seasons beginning next year with a seal of approval from AFL Barwon.
Peninsula Sharks coordinator Jennie Deckker, also a Drysdale Football Club coordinator, said the concept was to create a direct link between Under 15s and senior women's on the Bellarine.
At Ocean Grove in 2019, there was no established pathway for young women to develop their skills locally after they became ineligible to play Under 15s due to age and had to make the jump to senior football.
"We have got girls not playing football at all (on the Bellarine) which is a real disappointment because they felt too young for senior football and they were obviously too old for Under 15s and they didn't want to go and play for another (stand-alone) club," Ms Deckker said.
"The question was is how can we get them to still play for Drysdale or Ocean Grove or Portarlington and Queenscliff but be connected to a team?
"So the girls didn't want to go and play in someone else's colours.
"It is meant to be a positive collaboration between the clubs because that is female football in its essence."
Training sessions will take place at Ocean Grove Memorial Recreation Reserve with home games split between the four clubs.
"Home games will be rotated around the four clubs so they can engage their members and girls get a chance to play at their home ground," Ms Deckker said.
"Peninsula Sharks is to represent the northern Bellarine as oppose to the entire Bellarine Football League."
The Peninsula Sharks logo was designed and created by graphic artist Stuart Craven, who is also the Drysdale senior women's football coach.
Mr Craven works with Merv Jennings Signs.
IN 2019, Ocean Grove Football Netball Club fielded four girls and women's football teams including a senior women's team, an Under 15s team and two Under 12 teams.
Ocean Grove's Under 15s side this season made history when they became the first local female football team to make it through to a grand final and were runners up to Torquay Canning in the decider.
For enquiries on the Peninsula Sharks please contact Jennie Deckker on 0425 718 838.