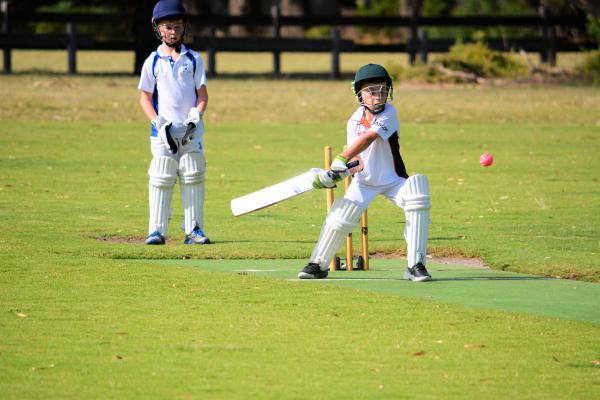 By Justin Flynn
Collendina kept its finals hopes alive with a five-wicket win against a gutsy Barwon Heads in round 12 of A1 Grade on Saturday.
Barwon Heads won the toss and batted first and made 9/124 from 40 overs, with young gun Campbell Snookes top scoring with 39 while James Hodder made 26.
Charlie Lamb's eight overs yielded only 12 runs while Andy Higgins and Jacob Gasier took two wickets each. Youngster Noah Jeffrey took his first A Grade wicket.
Collendina started its run chase badly, being 3/15 and then 5/69, but Higgins (30 not out) and Izaak Terhorst (20 not out), in his A Grade debut, combined for an unbeaten 56-run stand to get the side home.
Nathan Walter top scored with 47 and the Cobras got the runs in the 35th over.
Jack Johnstone was the Seagulls' stand out bowler with 3/14.
Collendina thrashed Little River in B1 Grade.
All the Cobras' bowlers were on song as Little River meandered its way to 64 all out from 39.1 overs.
Craig Goodger (2/6 from eight overs), Nick Gibbon (1/7 from eight) and Sam Tucker (2/12 from eight) were miserly while Dean Britt and Dave Treharne snuck in for two wickets each.
It took Dina just 20 overs to win the game, with Britt making 23 not out.
Collendina fell to the strong Jan Juc side in C Grade.
Matt Gibbon (66), Steve Blackman (38) and Gavin Berry (33 not out) contributed to the total of 4/182.
However, the Sharks got the runs with three overs and six wickets to spare. Jake Gittins snared two wickets to go with his innings of 25 for the Snakes.
Jan Juc proved too good in D Grade.
The Sharks made 5/203 with Julian Wilson snaring two wickets and Justin Miller bowling well with 1/20 from eight overs.
Dina did well in its run chase, getting to 162 before being bowled out in the 40th over. Wilson took his season's run tally to 336 with 42 while Paul Donald made 25 not out.
Collendina produced a complete all-round performance in a stunning upset of Queenscliff in round 11 of A1 Grade.
The Cobras were superb in all departments in a comfortable 84-run victory.
After being sent in, the Snakes made 8/200 with Matt Davies finding form for a well-made 58 while Andy Higgins continued his consistent season with 55 not out.
Queenscliff faced a difficult run chase but both openers were removed early by Higgins and Nick Gibbon.
The Coutas were 4/27 but Frank Mileto (34) and youngster Nat Stephens (32) got the score up to 85. But from there, Queenscliff was bowled out for 116 with Higgins and Rob Stonehouse claiming three wickets each.
Portarlington defeated Collendina in B2 Grade. Dina made a competitive 9/172 with Jack Every (35) and Cam Kavliunas (32) playing well with youngster James Tilders taking 3/16 for Port.
Port knocked off the runs with six wickets and eight balls remaining thanks to Mark Tilders (42) and Michael Malley (36) with a 74-run opening partnership. Dave Treharne took 3/29 for Collendina.
Collendina defeated Queenscliff in C Grade, making 8/139 batting first, with Peter Mohr (33) top scoring and Brendan Monahan (3/13) bowling well.
Queenscliff fell 33 runs short in its run chase with Garry Wingrave (3/8) and Clynt Combridge (1/9 from eight overs) successful.
Collendina defeated Ocean Grove in D Grade with a 121-run opening partnership between Julian Wilson (73) and Ted Wilson (49) the highlight.