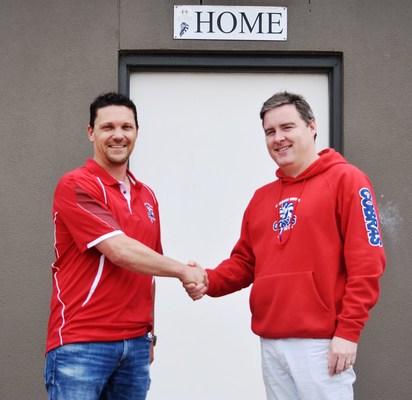 By Mark Heenan
Ocean Grove Cobras Junior Football Club elected Dennis Hateley as its new president at the club's annual general meeting on Sunday 9 November.
Hateley, the Cobras junior footy vice president in 2019, takes the reins from Shaun Stow who served a three-year stint as OGCJFC president.
Stow will stay on vice president for the 2020 season.
Hateley and Stow will join existing football director Cameron McGregor, new secretary Shaan Briggs and new treasurer Greame Phipps on the club's new committee for 2020.
The Cobras confirmed they had a succession plan with Stow indicating he would step aside from role as president 12 months ago as Hateley had been groomed for the position.
Hatele who volunteered on the club's general committee for two years and assisted with co-ordinating the Cobras' Auskick program, praised the work of volunteer parents in 2019 and Stow as president.
"There are a lot of parents that are willing to contribute and help out with their kids sport," Hateley told the Voice.
"A lot of them if you ask for help you will get it and that's the thing that makes our job a lot easier.
"Shaun has done an awesome job, I think probably some of the key things that have come through Shaun's leadership has been that strategic thinking and that push and eagerness for a very good club into a great club."
Ocean Grove Cobras which fielded 16 junior teams in 2019, made a total net profit of $5,999.72 according to its annual general report which ended on 30 September, 2019.
NUMBERS at the Cobras will continue to grow next season with the introduction of junior girls' football.
The Cobras will field Ocean Grove Cobra Boys teams in Under 9s, Under 10s, Under 11s and Under 13s and Under 10s and Under 12s teams in Ocean Grove Cobra Girls.
Hateley said the Cobras will field at least one girls team in Under 10s and are expected to have up to two sides in Under 12s girls.
"It will be exciting and good to see having the girls part of our program but in saying that it is part of the wider program," Hateley said.
OCEAN Grove Cobras also have sent out an expression for junior coaches for the 2020 season.
Contact Cobras football director Cameron McGregor on cameron@mcgregorsc.com.au for more information.
OCEAN GROVE COBRAS JUNIOR FOOTBALL CLUB COMMITTEE 2020
President: Dennis Hateley
Vice president: Shaun Stow
Secretary: Shaan Briggs
Treasurer: Graeme Phipps
Football Director: Cameron McGregor