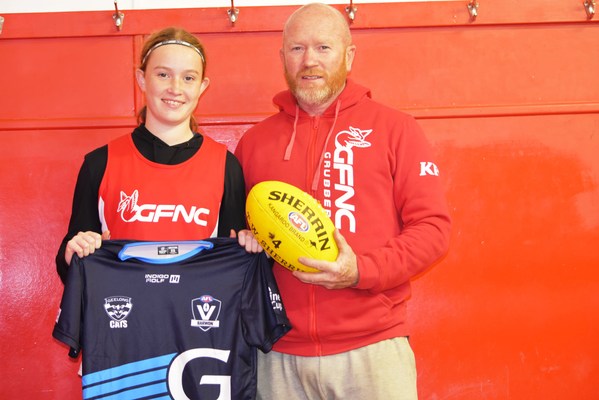 By Mark Heenan
Junior footballer Piper Copeland lives and breathes playing the game.
This month the 13-year-old Bellarine Secondary College student was selected in the Under 14s Geelong Cats Academy Squad.
Piper, who plays for the Ocean Grove Under 15s team, was thrilled when her father Adrian Copeland told her the news.
"I was sitting in the lounge room and dad said 'look at this'," said a modest Piper, who has played two seasons of football.
Adrian, the Grubber Under 15s girls coach, had been sifting through his emails when he found the pleasant surprise.
"When I saw it pop up in the email, I was blown away myself," said dad Adrian, a father of six.
"I had to have a bit of a look and obviously I was pretty proud of what my daughter had achieved."
Piper was the sole Ocean Grove representative named in the Under 14s squad by AFL Barwon.
Juniors from wider region Geelong based clubs including Bannockburn, Barwon Heads, Colac Imperials, Geelong Amateur, Grovedale, Lara, Newcomb, Newtown and Chilwell, South Barwon, St Joseph's, St Mary's and Torquay were named in the squad.
The Under 14s Geelong Cats Academy Squad training started on 18 June.
While there are no representative games being played, the focus is on nine weekly training sessions and high intensity skills with star Geelong AFLW players to help run training.
Strongly built for her age, Piper plays ruck-rover for the Grubbers and isn't afraid to go in hard for the ball.
An Under 15s grading match against Barwon Heads Blue on 28 April saw Piper snare four goals and was named the Grubbers' best player in the 96-point win.
Piper said she enjoyed the physical side when asked what her favourite part of the game was.
"Tackling the girls," Piper answered.
Adrian said Piper had many strong attributes with her desire to succeed and had a knack at finding the ball.
"She reads the play really well and generally comes out with the ball, can read where the ball will end up and she can foresee a turnover," he said.
Piper, also a talented basketballer, had also been named in a representative Victorian Junior Basketball League tryout squad.
"Any sport she does she is pretty passionate, she puts everything in," Adrian said.