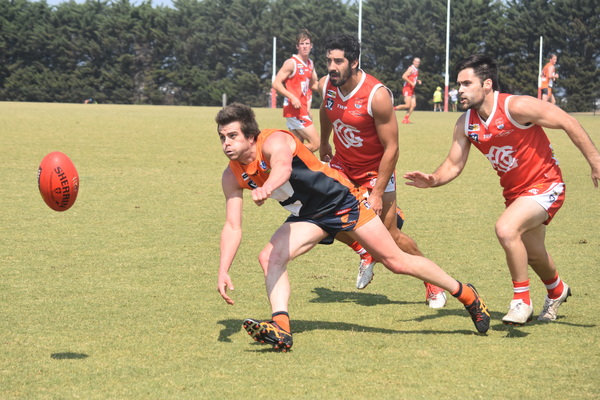 By Mark Heenan
Ocean Grove commenced 2019 on a bright note when it defeated GFL based Geelong West by 30 points in a practice match at Oakdene Estate on Saturday.
Final scores Ocean Grove 7.15 (57) defeated Geelong West Giants 4.3 (27).
The first of three 2019 practice matches for the Grubbers on 9 March saw the debut of new Ocean Grove senior playing coach Jordan Jones.
Jones said he was pleased on how the Grubbers performed.
"The scores were irrelevant, it was very pleasing on how we went about it and the effort and the intensity and the willingness to try and improve on what we have been practising over the last eight to ten weeks," Jones told the Voice after the match.
"A couple of (our) boys had a wedding to go to and we picked our best available side and we are going to do that every week."
It was the first outing for new Grubber recruits including ruckman Steve Presani, Jake Ward, Jake Wilkie and off-season signings Joey Perkovic, Lachie Meadows and Kurt Cole.
The Grubbers defeated the Giants in the reserves game, 6.16 (52) to Geelong West Giants 3.3 (21).
In the earlier Under 19s practice match, Ocean Grove 23.12 (150) thrashed an understrength Drysdale 2.2 (14) by 136 points.
Ocean Grove travels to Camperdown for an away practice match against Camperdown this Saturday.
The Grubbers conclude their pre-season with a practice match against Melton at home on 23 March.
"We will fine tune our team as we get a little closer to the season," Jones said.
OCEAN Grove opens its 2019 Bellarine Football League campaign with a home match under lights at Ray Menzies Memorial Oval at Shell Road against Newcomb on Saturday 6 April.
IN other developments Ocean Grove Football Club has named Justin Carey and James Linton as joint senior co-captains for 2019.
Carey was unavailable to play against Geelong West Giants on Saturday due to a wedding.