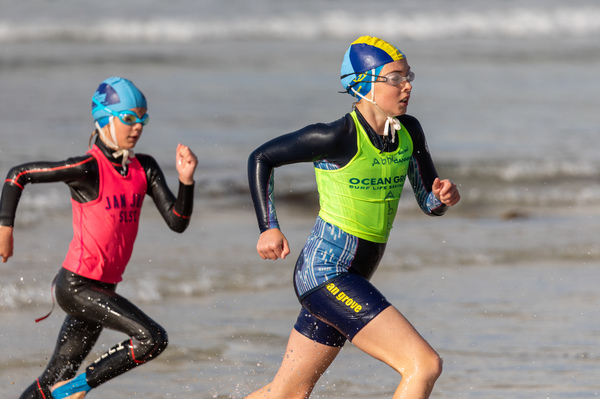 By Mark Heenan
Ocean Grove Surf Life Saving Club was poised to grab overall honours at the Victorian Junior Lifesaving Championships at Warrnambool after a terrific start on Saturday, March 7.
OGSLSC Nippers produced standout team and individual performances in testing three-foot waves and choppy conditions on the opening day of the three-day state titles.
Ocean Grove was the leading club overall on 107 points, ahead of second-placed Mornington Life Saving Club on 74 points and Mentone LSC in third on 71 points after day one of the state titles.
Ocean Grove SLSC junior activities member Peter Walsh said conditions suited the club's junior competitors with all components of surf lifesaving tested.
OGSLSC had about 100 junior competitors at state titles.
"The conditions were testing, but suited Ocean Grove athletes to a tee," Walsh told the Voice.
"Basically similar to every Friday night [at Ocean Grove SLSC this season].
"It was kind of choppy [and] it was challenging. Everyone did very well."
More than 1400 junior competitors from 32 clubs across Victoria gathered for the Life Saving Victoria junior titles hosted by Warrnambool Surf Life Saving Club.
Ocean Grove began day one on a high after it placed first in the Under 11s Boys Wade Relay event.
Local competitor Grayson Hyde won the Under 9s Wade Race final, while teammate Paddy Moulton came second.
The quartet of Hugh Rolfs, Cooper Levis, Grayson Hyde and Paddy Moulton won the Under 9s Boys Wade Relay final.
Ocean Grove won the Under 10s Boys Relay final with Ryan Tolley, Archie Deverall, Patrick Lonergan and Owain Knapp.
Local star Molly Slavinskis took out the Under 10s Girls Wade Race final.
Lucian Joyce, William Goldstraw, Tobias Hallam and Lennox Crabtree combined to win the Under 11 Boys Wade Relay.
The OGSLSC quartet of Koby Carlesso, Miller Moulton, Hugo Walsh and Alexander Morgan came second in the Under 12 Boys Beach Relay final.
Georgie McIntyre, Chelsea Hanks, Memphis Johnson, Holly Confoy were runners-up in the Under 11s Girls Wade Relay race.
Walsh praised the club's Under 9s age group competing at their first state championships.
The Under 9s Boys won gold in the Wade Relay.
"A little bit of a highlight was Under 9s, their first ever [LSV state championships], they were prominent in finals and there were 20-odd [participants] in Under 9s," he said.