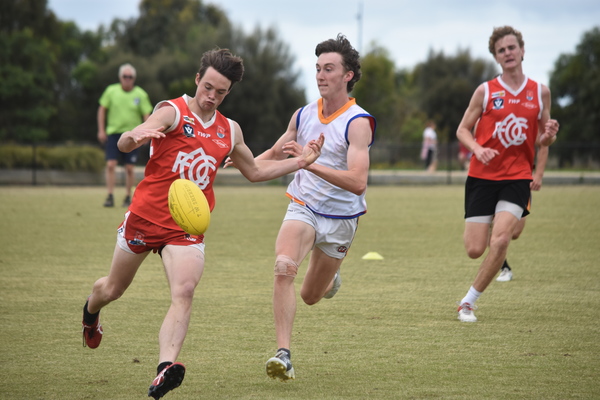 By Mark Heenan
Former North Melbourne AFL coach Dean Laidley, now a Maribyrnong Park coach, and his players were involved in a pre-season camp with the Grubbers at Ocean Grove.
Maribyrnong Park, an Essendon District Football League (EDFL) premier division club, took part in match simulation with Ocean Grove footballers at Oakdene Oval on February 29.
Earlier, both clubs matched up their midfields and their backs versus forwards on the big surrounds at Oakdene.
Players from both clubs completed various competitive pre-season drills and did an Amazing Race team activity around the streets of Ocean Grove.
Laidley, who played 151 VFL/AFL games with West Coast and North Melbourne, said the chance to complete a pre-season summer camp at Ocean Grove and work alongside a coastal Bellarine-based club was ideal.
"We are very young (at Maribyrnong Park) and Ocean Grove are very… very young (and it was a good chance) to get together and chew the fat and talk about life and footy," Laidley told the Voice
"So it is a great opportunity for both clubs.
"We didn't get a chance to do a camp last year, so we thought we would take the opportunity to do it this year."
The bond between Ocean Grove and Maribyrnong Park clubs was formed through new Grubber coach Pete Davey and Marby Park footy manager and senior assistant coach Jarrad Carey.
Davey, a former Banyule senior coach, coached against Carey, who was a coach at Watsonia in the Melbourne-based Northern Football League in 2018.
"I coached against him (Carey) when I coached Banyule and we've remained in contact and helped each other on a few things," Davey said.
Davey said it was fantastic for the youthful Grubbers to be exposed to a strong EDFL club.
"Maribyrnong Park are in the strongest top tier of clubs in the strongest metro competition (EDFL)," he said.
"To expose our kids to that kind of opposition will serve us very well later on.
"We had a chat afterwards and our boys learnt a lot about positioning and running patterns especially."