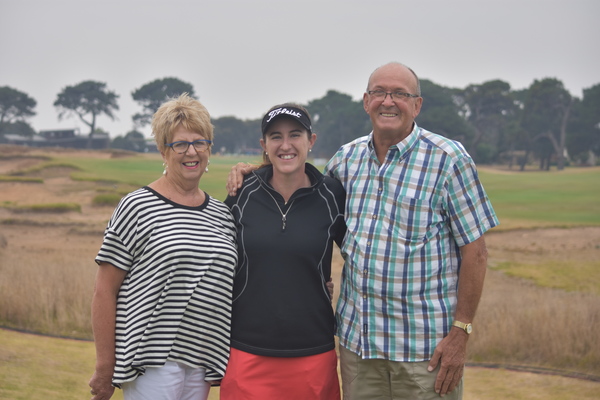 By Mark Heenan
USA professional golfer Amelia Lewis was delighted to be reunited with her Ocean Grove host family at this year's Vic Open after she missed the 2018 tournament.
Lewis, who turns 28 this month, caught up with locals Dick and Leone Clay last week at 13th Beach Golf Links, two years after she first stayed with them.
The Clays are one of two Ocean Grove Golf Club families hosting international and interstate competitors at the 2019 Vic Open.
Amelia missed the 2018 event but qualified for 2019 with a top-for finish in an ALPG qualifying event at Ballarat in January.
"I didn't really work in my schedule last year because there was a tournament right before it and I was unavailable to get here," said Amelia, who resides in Florida.
"I'm very happy to be back here. It's one of my favourite places to play and just the uniqueness of the guys and the girls playing together it just makes it so exciting to be here.
"It's great because it's more like a community because everyone comes out and supports the events.
"The golf courses in themselves are great courses, but when you have the community just coming out and supporting us and hosting us it just makes it a better vibe and, yes, it's a really fun week.
"Australia is really the only country where I stay with host families."
Amelia had an extended Ocean Grove connection two years ago when local golfer Sally Schaller, who played in this year's Pro-Am, was a caddie for the American.
"Yeah, (Sally) caddied for me two years ago because I got stuck and I needed a last-minute caddie and she offered her services," Amelia said.
Prior to the start of last week's Vic Open she visited the Ocean Grove Golf Club.
"We did take her to the Ocean Grove Golf Club for dinner," laughed Leone Clay.
"It was nice," Amelia said.
Dick Clay, a four-time premiership player with Richmond who played 213 VFL games from 1966 to 1976, said was happy Amelia could discover the local surrounds despite her busy playing schedule.
"We understand Amelia's timetables and her practice and all that sort of thing. We understand she has a job to do but we went to Queenscliff for a coffee," he said.