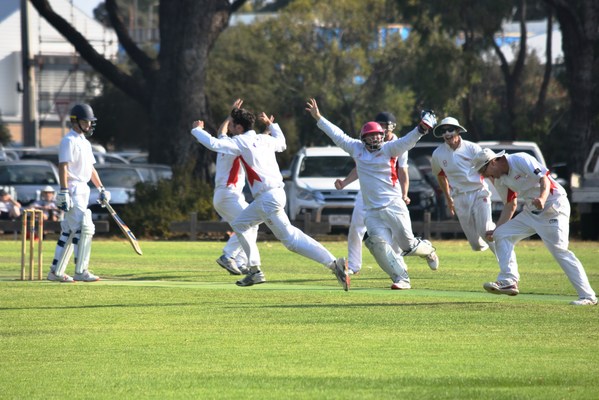 By Mark Heenan
What an amazing way to end the season for Ocean Grove.
The Grubbers broke a 16-year A Grade premiership drought with victory over Anglesea in the decider.
Ocean Grove's A1 season got off to a flyer, undefeated after the first four rounds with wins over finalists Anglesea and Jan Juc.
Prior to mid-season Christmas and New Year break Ocean Grove was the form team and ladder leader with a 7-1 record.
The new year had its challenges. Captain coach Paul Jubber headed overseas on a mid-season vacation which meant assistant playing coach Anton Scholtz took the reins as captain coach for four matches.
Jubber's return had an impact on the line-up after Grubbers escaped with a draw against Collendina in Round 12 and suffered a disappointing loss to Barwon Heads in Round 13.
The Grubbers found their mojo with a convincing win over Portarlington in the last round before finals.
Ocean Grove sought revenge on Barwon Heads in the semi-final with a 38-run victory.
Enter young spin sensation Tom Beasley his took game to another level with two six-wicket hauls in the semi-final and grand final.
Beasley was a major catalyst in Ocean Grove's premiership.
Equally Anton Scholtz put the finishing touches on the grand final victory with a classy unbeaten 77 in the decider.
Depth was a resounding factor behind the club's A1 success in 2018/19 with all-rounders at their disposal including new recruit Matt Caulfield.
Batting star Michael Kenneady found his groove in Round 7 and Round 8 with back to back hundreds with scores of 133 not out and 100.
Kenneady was the fourth-highest run scorer in the A1 competition with 561 runs at 51.
Huon Bertino, Matt Caulfield, Anton Scholtz scored handy runs throughout the season.
Paul Jubber's early season form with the bat was consistent and included a brilliant 113 against Drysdale and a 150-run stand with Caulfield, who made 95.
Jubber was effective with his left arm spin with 15 wickets at 15.81.
The addition of younger brother Sam Jubber to the line-up in the second half of the season was critical.
Jubber opened the bowling with his fast medium pace and made handy runs including 68 against Barwon Heads in Round 13.
Spinner Beasley dominated with the ball, taking a staggering 38 wickets across the season in A1 – including 12 scalps in finals.
Beasley was the second highest leading wicket-taker in the A1 competition and finished behind Anglesea speedster Dale Kerr's tally of 45 wickets at 14.31.
Caulfield won the bowling average with 20 wickets at 14.15 and was the club's most economical bowler.
Tom Kent, who unluckily missed out on a grand final berth, finished with 22 wickets at 18.09.
Shaun Fankhauser made his maiden hundred with an impressive 110 against Portarlington in Round 14.
Ocean Grove's second XI was pitted against other BPCA based first XI teams in the new look A2 competition this season.
While the Grubbers did not make finals in A2 it was a great grounding for players to play a high standard before players were elevated to A1.
One of the highlights for A2 was beating grand finalists Inverleigh in Round 8.
Ocean Grove C1 narrowly missed on a top-four berth and lost a nail-biter by 10 runs in the round before finals.
Pat Kuipers had an outstanding season with 438 runs at 62.57 and which swashbuckling 191 against St Leonards in Round 5.
Ocean Grove D Grade finished in eighth spot – one of the highlights of 2018/19 was veteran clubman Craig D'Arcy celebrating his 500th game in Round 17.
D'Arcy's 500th was a special occasion for club, opposition team Wallington shifted its home fixture to Shell Road on a Sunday to accommodate the milestone as the Grubbers defeated the Wallabies.
SEASON FINISH – Premiers
TOP PERFORMERS
BATTING
Michael Kenneady
561 runs at 51
11 catches
Huon Bertino
396 runs at 26.40
18 catches
8 stumpings
3 run outs
Anton Scholtz
390 runs at 32.50
9 catches
Paul Jubber
315 runs at 35
Matt Caulfield
295 runs at 42.14
BOWLING
Tom Beasley
38 wickets at 19.45
Tom Kent
22 wickets at 18.09
Matt Caulfield
20 wickets at 14.15
Paul Jubber
16 wickets at 16.81
Lindon Giuffrida
14 wickets at 22.57
Sam Jubber
11 wickets at 23.09
"I am super proud of the club and the boys and these been a lot of people who have done a lot of wonderful things around the place – it is terrific to repay with a premiership. This year there was unfinished business."
– Ocean Grove Cricket Club captain coach Paul Jubber