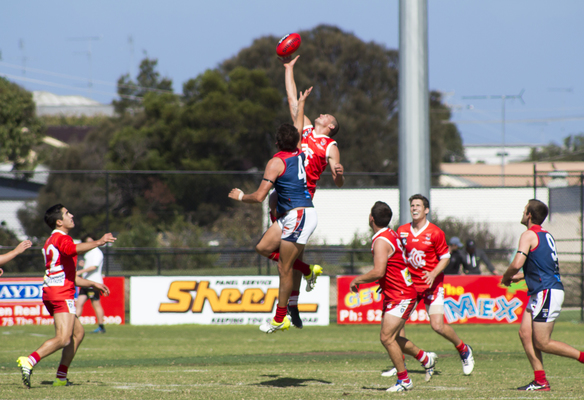 THE Grubbers came to light with their second straight victory at their new Shell Road home, defeating Portarlington by 38 points on 2 April.
Ocean Grove has a 2-0 start in 2016 – a far contrast from last season where the Grubbers lost their first four games under new coach Wayne Walsh.
Grubber forward Travis Gavin – who snared four goals in his side's round one win against Drysdale – was in good form and booted five majors against Portarlington, while Patrick West and Jahd Anderson both kicked two goals.
The visitors were not overawed in the early stages on the bigger surrounds at Shell Road and led by four points at quarter time.
Ocean Grove fought back in the second quarter and went into the half-time break with a 20-point advantage. The home side extended the margin buffer at the last break out to 34 points. In the final term Ocean Grove kicked 2.3 compared to Portarlington's 1.5.
Ocean Grove star trio Jahd Anderson, Andrew Jarvis and new recruit James Linton all played key roles in the win.
Portarlington overcame Ocean Grove in the reserves curtain-raiser by 28 points. Final scores were Portarlington 10.11.71 to Ocean Grove 6.7.43. Grubber key forward Matt McCartney booted four goals despite his side's loss.
BFL SENIORS SCOREBOARD
OCEAN GROVE 13.17.95
PORTARLINGTON 8.9.57
Ocean Grove: Goals: T. Gavin 5, J. Anderson 2, P. West 2, M. Laidler, J. Linton, D. Freeman, K. Williams
Best: J. Anderson, A. Jarvis, J. Linton, T. Gavin, A. Baxter, D. King