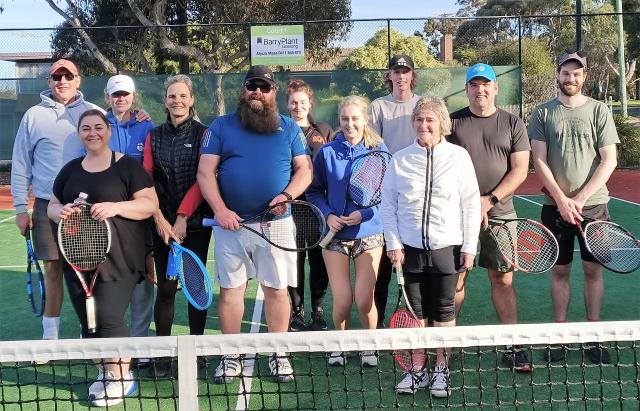 LOCAL TENNIS by Donna Schoenmaekers
Things are getting tight in the race to finals in Tennis Geelong's Section 4 Mixed with the gap between second and fifth narrowed from 10 points to six with three rounds to go.
Top of the table Clifton Springs/Drysdale hosted third placed Newcomb in a tough encounter. Nicole Nicholls and Jack Lane started the day well for the combined team with a 6-1 win, but Barbara Pecher and Jacob Pianto countered for Newcomb in the second set marathon 7-5.
Despite a sore shoulder and recovering from illness, Pecher and Dianna Spork took the women's 6-4 for Newcomb, while the Bellarine men, Lane and Andrew Vlahovic, got up 6-2.
With only one game separating the teams going into the reverse mixed, the win was up for grabs for both teams, but the home team showed why they lead the field taking both sets 6-2 and 7-5 with Jack Lane winning his three sets for the day, and the team extending their lead at the top.
Fifth placed Hamlyn Park improved its finals chances with a 4-2 win over second placed Drysdale at home.
In bright sunshine Drysdale took an early lead winning the first two sets, with Isabella Saunders and Darren Humphrey getting through in a tie-break, while Ria Palmateer and Gus Saunders had it a little easier taking their set 6-1.
From there Hamlyn Park lifted its game with Alice McDonald and Anne Schulz winning the women's 6-4, Matthew Morgan and Nash Moed the men's 6-1, then Liz Watt teamed with Morgan to win 6-2 while Schulz and Moed wrapped up the win taking the final set 6-0.
The final match of the round saw Grovedale travel to Torquay to take on Surfcoast, and with only four points separating the two teams, both teams were keen to do well.
Grovedale took an early lead with Nicole Pertzel and Steve Grass taking the first set 6-3, and teammates Diane Ambrus and Lin Zhang taking the second 6-3.
The visitors continued their good form in the doubles winning the women's 6-1 and the men's 6-3.
Leanne Heath and Peter Haysham put Torquay on the board with a win in the fifth set 6-3, but that was the best Torquay could do with Grovedale taking the final set 6-0, and the match five sets to one.