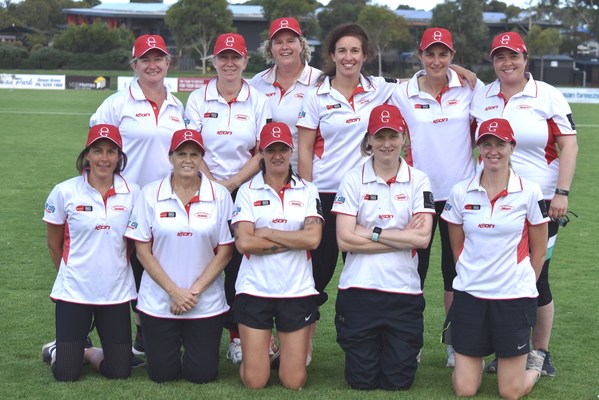 By Mark Heenan
Ocean Grove first ever senior women's cricket team went through its debut season undefeated with victory over St Joseph's in the GCA T20 South clash on 2 February.
The Grubbers won the top-of-the-table Round 8 match over St Joseph's, which was unbeaten after seven rounds.
St Joseph's proved no match for the rampaging Grubbers, who crushed the visitors by 82 runs.
Ocean Grove (48 points) finished the regular season with a 7-0 record to finish on top of the ladder.
Second-placed St Joseph's (6-1) finished on 42 points.
Both Ocean Grove and St Joseph's faced off again in a knockout semi-final at Ray Menzies Memorial Oval at Shell Road on Sunday 9 February, a week later.
The victor faces the GCA T20 North knockout semi-final winner in the season decider on Sunday 16 February
Coach James Nessel said going through the season unbeaten was beyond his side's expectations.
"I doubt (they even) know how important it is to have some success in the first season," Nessel told the Voice.
"Hopefully it sets a platform for future teams to build on."
ST JOSEPH'S won the toss and sent the home side into bat in the Round 8 clash.
The Grubbers built a strong platform compiling a highly competitive total of 4/138 from 20 overs.
Openers Jacquie Johnston (41) and Alana Kot (32) combined for an 89-run partnership, while Jackie Montgomery chimed in with 18.
Johnston had a fantastic season with 183 runs and was only dismissed once, while Kot was next best with 137 runs at 68.50 from five innings.
In reply St Joseph's was all out for 56.
Gun bowler Andrea Frankpitt snared 2/7 from two overs and was the Grubbers' leading wicket taker from the regular season with seven wickets at 14.71.
Jess Teague took 2/10 from three overs.