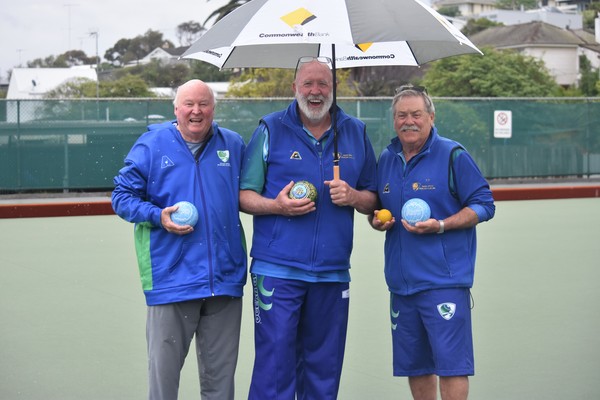 Wet weather played havoc across the Geelong Bowls Region for round five of the Saturday Pennant competition.
The consistent downfall of rain prevented any possibility of the day's play getting underway.
Ocean Grove 1 missed out on the opportunity to take to the greens for a grand final rematch between the current top two teams and will now have their sights firmly set on a Friday night clash under lights at Highton.
There will be an opportunity going into round six for Ocean Grove 2 to collect some points when it hosts Torquay. Competitive each week but without success so far the premier two team will be ready for the challenge.
Bareena away proved a tough challenge for the previously undefeated third side in Division Two.
With several unavailable players for round five several changes were necessary which resulted in shuffling of some sides to accommodate.
Wins in round four for the Division Three, Five, Six and Ten sides see them all current four teams whilst Division Eight, led by Ruth Barker, Ray Foley, Heather Quilty and Albert
Touwslager, recorded a score line of 40-13.
Graeme Constable (plus five) and Reg Hungerford (plus 16) all supported each other to get Division Eights first lot of match points for the season.
Elaine Price, Gary Burkett, Matt Flapper and Jo Whitehead controlled the round five match against Geelong RSL at home to record a 25-shot win.
Faye Richardson (plus 19) and Jenny Keep (plus six) was good enough to collect 16 points and jump to top of the table on the Division One ladder.
The collection of 16 match points was a great response for the Division Two side which was looking to bounce back from the previous week at Bannockburn.
Lorraine Kirk (7) Lorraine Hunt (1) and Patricia Virtue (2) all contributed to the 10-shot overall win to push back up to second overall.
Elizabeth Braley led her rink of Mavis Harling, Margaret Dower and Sandra Murphy to a match winning 12-shot win which was enough to get her division three side over the line by a single shot.
Returning home with a victory from Bell Post Hill is always a great result and the overall one-shot win was enough to lift the side to top of the ladder after five rounds.
The margin of five shots in Division Five/Six was the total of three close rink wins in the final win of the day played at Portarlington.
Lorraine Oliver (1) and Trish O'Brien (4) got the two points whilst Heather Quilty's four had to settle for a point with her 25 all draw.
Jenny runner-up in great effort
First year bowler Jenny Price has started well in the Region Novice singles finishing runner-up in the GBR Novice Singles
Jenny won her semi final 21-12 but went down in the final to Drysdale. A great effort in her first weeks of her bowls career.
Starting off last week at Portarlington Price won a thriller in the first game 21-20 before really settling in in round two to win 21-15.
Price then returned to Portarlington on Thursday night and won the quarter final 22-9.BPL for Grovers
Craig Rippon, Mick West, Brad Pavey and Matt Flapper will head to Brisbane next Sunday to contest the Bowls Australia Bowls Premier League Cup.
The event started at club level then progressed to region finals before the state finals were contested at Dandenong Club.
Three Victorian teams won their way through and will join thirteen others from across the state to contest the Australian championship event.
The BPL cup will be played in conjunction with the Bowls Premier League which will be
broadcast live on Foxtel from 12 November.
Champion Triples
Two Ocean Grove triples teams got the chocolates in the Geelong Region Triples played last Sunday at St Leonards.
Muriel Williams, Patricia Virtue and Faye Richardson come from behind to win the ladies
championship whilst Craig Pavey, Brad Pavey and Matt Flapper held on to get over the line
in the men's event.
Both teams will progress to the state finals to be played in April 2020.
21up Champs
Two players have been crowned the club 21up champions played last Friday.
In front of a good crowd of spectators Faye Richardson finished ahead of Jo Whitehead whilst Garry
Bowyer and Terry Thomas had a battle royal in which Bowyer took the title.