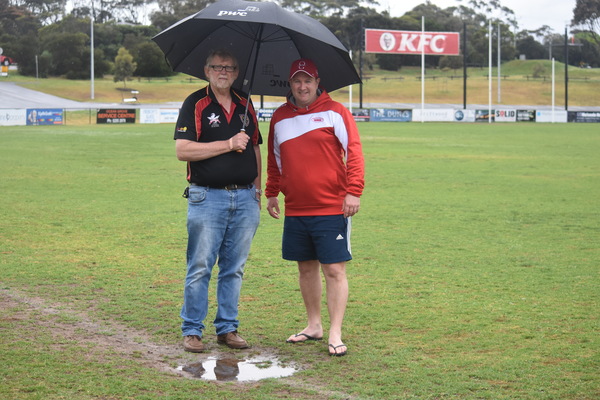 By Mark Heenan
Local rivals Ocean Grove and Collendina's Round 5 two-day clash will revert to a one-day game this Saturday after rain abandoned play at Shell Road on 2 November.
Bellarine Peninsula Cricket Association matches across all grades were called off on Saturday due to wet weather.
Both Ocean Grove and Collendina now play for the 'Battle of the Beaches Bate/Norquay shield' in two-day cricket.
Last season's Round 12 two-day clash between the Grubbers and Cobras had rain delays and was drawn, which meant either team could not claim the first Bate/Norquay shield.
Ocean Grove more recently defeated Collendina by eight wickets in their Round 2 one-day clash played at Collendina Reserve on 12 October.
Ocean Grove A1 player Huon Bertino, opening batsman and wicket keeper, said the re-scheduled Round 5 one-day clash against the Cobras wasn't a concern.
"We were able to get a good win in the one-dayer against Collendina a few weeks back," Bertino said.
"Reverting to an one-dayer for us next week doesn't faze us at all.
"We respect Collendina, they have a few players back in this week and we will just bring our best against whatever team they put on the park.
"We take nothing for granted."
Ocean Grove sits in third on the A1 ladder after four rounds with two wins, one loss and a draw, while Collendina remains in seventh spot with two losses and two draws.
MEANTIME Bellarine Peninsula Cricket Association president Ian Caldwell, who inspected the wet conditions at Ray Menzies Memorial Oval at Shell Road with Bertino, said it was disappointing there was no play on Saturday.
Rain and inclement weather have plagued A1 cricket on the Bellarine across the last three Saturdays.
Four of the last eight BPCA A1 fixtures prior to Round 5 were drawn matches due to weather.
"It is always disappointing when you have got adverse weather conditions and when you are taking all the factors in and you make the call to cancel a day's cricket," Caldwell told the Voice.
"The beneficiary part of it is day one of a two-day game, so next week all being well we will have a full days' play and teams will be able to complete for a result.
All play was officially called off on Saturday morning after news was informed via the BPCA Facebook page, while all Geelong Cricket Association turf and synthetic matches were also abandoned.
"We noted the amount of rain that had fallen overnight, we look at the radar, we have grounds which are inspected because the BPCA covers a large geographical area," Caldwell said.
"It was determined when taking all the factors into consideration that the majority of grounds would be unplayable and we need to make (that) call as early as possible."
CALDWELL said the scheduled start to the BPCA two-day cricket season would have meant a new 'sub-rule' would have been introduced.
The new 'sub-rule' allows one player from a two-day clash to play the first day of the game and then be subbed out on day two the following Saturday.
The substituted player who comes in and the player who is subbed out needs to be named prior to the coin toss before play starts.
"This round was to test the new sub-rule that the association adopted at the AGM," he said.
"Under the rule on the team sheet, you name your 11 players and write the player's name who is going to be substituted out of the game and underneath you write the player's name who is going to be substituted in."