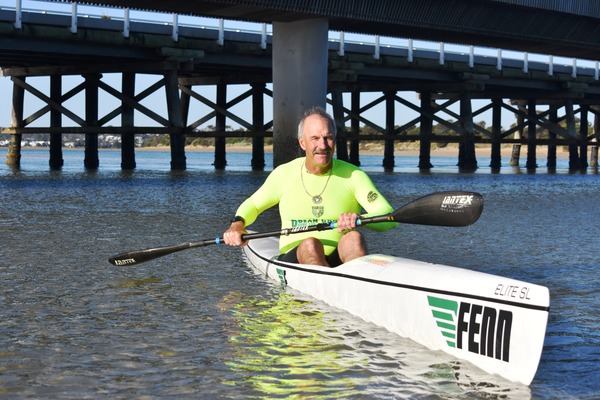 By Mark Heenan
Ocean Grove Surf Life Saving Club senior ski coach Bill Strachan is on a mission in November.
The 58-year-old ski paddler is preparing for two major endurance ocean ski events with 'The Doctor' in Western Australia on 23 November and a week later 'The Impossible' on 30 November.
The Voice caught up with Strachan recently where he was photographed in training near 'The Impossible' finish line at the Barwon Heads bridge.
The 5th annual 'Impossible', an 18km event, is held between Torquay and Barwon Heads and goes via Point Impossible.
"Yes (November) is a big month ahead," Strachan said.
"I have been doing a fair bit of ocean paddling, I tend to paddle to Point Lonsdale and back because that is the way the wind goes."
This year's 'Impossible' is scheduled later in November to allow paddlers to experience warmer sea temperatures after the event was held across the Melbourne Cup weekend in 2018.
Strachan, who became an Ocean Grove SLSC life member in 2017, said it was great to support a local event which takes in ocean conditions and also the Barwon River.
"The reason I like doing this is to support a local race because we don't have a lot of ocean ski racing here," Strachan told the Voice.
"It is very much a local event."
At 'The Impossible' in 2017, Strachan finished second in the 50-59 age group category in 1:29:01.
A two-time runner up at 'The Impossible' in his age group, Strachan won't lack any motivation at the start line which takes place at Fisherman's Beach in Torquay.
"Yes, it is like a ski race… and they will start us all together," he said.
MEANTIME Strachan will head across to Western Australia up to 10 days before the 27.5 kilometre 'Doctor' ski paddling event which runs from Rottnest Island and finishes at Sorrento Beach Surf Life Saving Club.
Strachan, who won gold in the single ski in the 55-59 male age group at last year's Aussies Surf Life Saving Titles held at Scarborough Beach in Western Australia, said 'The Impossible' race was just as difficult despite it being almost 10 kilometres shorter in distance than 'The Doctor'.
He plans to complete 'The Doctor' in just over two hours.
"That race might actually be easier (in Western Australia), I have seen the winning times (before) and the winner had done the race in 1 hour 47 minutes in the open male," he said.
Strachan, a three-time Coolangatta Gold competitor, is not showing any signs of slowing down with his marathon based feats in ocean ski paddling.
In May this year he competed in the 53km Molokai Challenge in Hawaii.