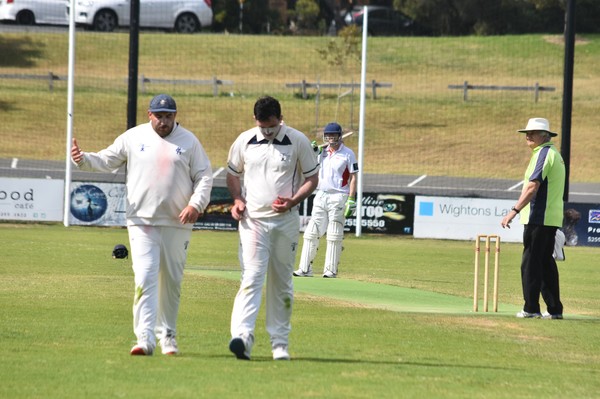 By Mark Heenan
A magnificent eight-wicket haul from Michael Fallon put Barwon Heads on top after day one of its two-day game against Ocean Grove.
The Seagulls bowled out the Grubbers for 180.
At stumps, Barwon Heads was 0/17 after five overs with Sean O'Leary and Kane Atkins unbeaten.
Fallon bowled 33.5 overs straight and tore through the Grubbers' batting line-up with 8/60 and 15 maidens, while Kristian Hopwood took 1/31 from 11 overs.
In Round 6, Fallon claimed 6/38 from 19.2 overs against Queenscliff.
"Micky Fallon bowled exceptionally well, he bowled full and he bowled on the spot and he was very difficult to get away and had good fields set to him," Ocean Grove captain-coach Paul Jubber said.
"Credit to him and to bowl for 30 overs was a super effort, he was outstanding."
Barwon Heads A1 captain Sam Schaller was full of praise for Fallon's marathon spell.
"He probably bowls better after he has bowled six or seven overs," said Schaller, who took 1/46 from 18 overs.
"He finds a nice rhythm, he bowled superb, it was awesome."
Ocean Grove laid a good platform. The Grubbers were 2/116 after openers Huon Bertino (32) and Shaun Fankhauser (31) made fine contributions.
Michael Thornton, who made 15, will spend an extended period on the sidelines after he injured his hamstring, while in-form Anton Scholtz contributed 27.
The Grubbers lost their last eight wickets for 64.
Paul Jubber made 19, while Matt Caulfield was 16 not out.
Seagull Lewy Hyland who was unavailable and not named, made 128 not out a week earlier against Queenscliff.
B1
BARWON Heads made 224 from 74.3 overs on day one against Ocean Grove.
Jonathan Gill top scored with 90 while Matt High compiled 82.
Billy Foord Engelsman snared 4/37 from 18.3 overs and Ben Hughes took 2/44 from 15 overs.
C1
OCEAN Grove bowled Barwon Heads all out for 165 from 59 overs.
Matt Bellingham collected 4/41 from 15 overs and Callum Docherty snared 3/48 from 20 overs.
Daniel Vella top scored with 28 for Barwon Heads while Shane Braiser made 26 and Alastair Thomson was 22 not out.
At stumps, the Grubbers were 1/0.
D GRADE ONE DAY COMPETITION
BARRABOOL defeated Ocean Grove by eight wickets with John Murphy (28) and Matt Stanic (23 and 1/23) the best players.