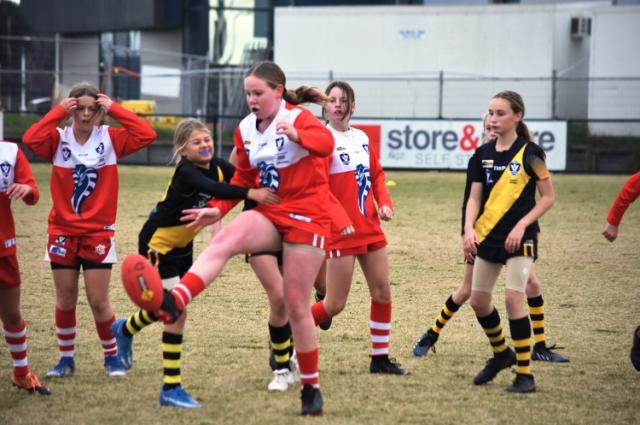 Ocean Grove Cobras Under 14 Division 1 side Walter went down to St Joseph's Black on the weekend, but not without a fight.
It was a keen contest and all Cobras teams are trying their best and enjoying an uninterupted season.
UNDER 14
Division 1
Ocean Grove Walter 6.3(39) def by St Joseph's Black 12.10(82)
Joeys kicked well in the first quarter to put themselves six goals in front. Walter came back in the second half of the game with Jack Thomson kicking four goals and leading well for the ball. But it wasn't enough to get in front of the taller and stronger St Joseph's side, which held the lead all day.
Jonathon Punchard had plenty of marks in the backline, as did Ned Badrock. Hayden Cooper dominated the game and never once gave up.
Best: Hayden Cooper, Jack Thomson, Jonathon Punchard, Joey Davidson, Ned Badrock, Fletcher Ward.
Goals: Jack Thomson 4, Toby Duckett 1, Fletcher Ward 1
Division 4
Ocean Grove Pearson 0.5(5) def by Queenscliff 7.6(48)
Pearson got off to a good start but unfortunately had trouble kicking goals again and it cost the team when it was on top and it was made to pay later in the match. Queenscliff had some big targets in its forward line, which made it hard for Ocean Grove to match up, though the boys gave it a really good go.
Best: Xavier Dean, Josh Anderson, Sunny Bohnke.
Division 6
Ocean Grove Every 6.3(39) def by Anakie/Little River 9.6(60)
It was a tough day for the Every boys out there but we are proud of the way they carried themselves. They are improving as a side each week and we can't question their efforts.
Best: Lachie Holmes, Baxter Greenfield, Liam Staehr.
UNDER 12
Ocean Grove Hunt 24.16(160) def Thomson 0.1(1)
Awards: Brodie Edmond, Connor Parry, Finn Sheahan.
Ocean Grove Dean 2.3(15) def by St Joseph's Leaping 14.5(89)
Ocean Grove Bishop 6.11(47) def Drysdale Leatch 3.2(20)
Ocean Grove Jeffrey 15.9-(99) def Barwon Heads Gubbins 2.3(15)
Ocean Grove White 15.8(98) def Portarlington Red 5.1(31)
Ocean Grove McGregor 3.7(25) def by Newtown & Chilwell Fanning 5.10(40)
Ocean Grove Jones 6.0(36) def by Geelong Ammos Walsh 8.11(59)
UNDER 12 GIRLS
Ocean Grove Hateley 4.3(22) def Ocean Grove McEvoy 4.1(25)
Awards (Hateley): Hattie Thomson-Wicks, Lani Turner, Chloe Sparks.
Ocean Grove Smith 0.3(3) def by Torquay Nairn 12.7(79)
Awards: Elise Hanks, Arabella Johnson, Hollie Smith, Kaia Martin.
UNDER 10
Ocean Grove Cordy 2.4(16) def by Geelong Ammos Nelson 12.13(85)
Awards: Joe Fryman, Isaac Geerings, Beau Walsh.
Ocean Grove Farrell 2.1(13) def by Torquay Tigers 10.7(67)
Awards Harry Stubs, Caleb Horner, Hudson Elers.
Ocean Grove Moroney 20.14(134) def Thomson 2 1.0(6)
UNDER 10 GIRLS
Ocean Grove O'Keefe 4.9(33) def Ocean Grove Burchell 2.4(16)
UNDER 9
Ocean Grove Taylor 9.3(57) def Lara Kelly 3.6(24)
Awards: Billy Heenan, Jamison Burgoyne, Angus MacGregor.
Ocean Grove Allan 5.1(31) def by St Mary's McMahon 9.8(62)
Awards: Jack McLeish, Jack Radley, Digby Morphet.
Ocean Grove Norquay 13.8(86) def Armstrong Creek Mako Sharks 1.3(9)
Awards: Tex Coleman, Tiger Reid, Alfie Aston.
Ocean Grove Dalton 6.8(44) def South Barwon Agg 6.2(38)
Awards: Oliver Verhagen, Oliver Williams, Raph Wintels.
Ocean Grove Durran 0.3(3) def by St Mary's Dohery 11.10(76)
Ocean Grove Stow 11.10(76) def Portarlington Red 1.2(8)